VIZ Media-Perfect Square Presents "Hello Kitty: Delicious"
By The Editor
January 8, 2014 - 17:44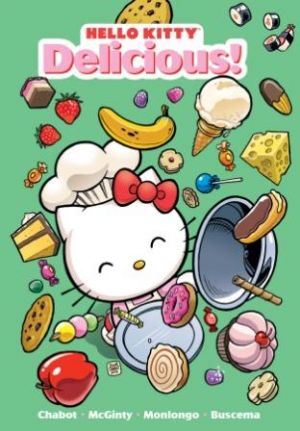 Hello Kitty: Delicious cover image
HELLO KITTY® EMBARKS ON FOOD-THEMED ADVENTURES AS VIZ MEDIA'S PERFECT SQUARE IMPRINT OPENS 2014 WITH A NEW GRAPHIC NOVEL RELEASE
HELLO KITTY: DELICIOUS! Treats Fans To Ten New Delectable All-Ages Adventures
VIZ Media, LLC (VIZ Media), the largest distributor and licensor of anime and manga in North America, delivers a scrumptious graphic novel delicacy to pop culture and comics fans with the release of HELLO KITTY: DELICIOUS! today from the company's Perfect Square imprint.
In Delicious! Hello Kitty serves up some extra special treats thanks to the creative talents of Jacob Chabot (HELLO KITTY, VOLTRON FORCE), Jorge Monlongo (HELLO KITTY, MAMESHIBA), Ian McGinty (UGLYDOLL), and special guest artist Stephanie Buscema. HELLO KITTY: DELICIOUS! is rated 'A' for All Ages, and will carry an MSRP of $7.99 U.S. / $9.99 CAN.
A digital version is also available for $4.99 U.S. / CAN from the Perfect Square App, which has titles available for the Apple iPad® and iPad® Mini. The Perfect Square App is available from the iTunes store. Fans can also find a digital version for the NOOK, Kindle Fire, and Kobo ereaders, as well as in the iBooks and GooglePlay Stores.
Hello Kitty is serving up some extra special treats! What's on the menu? Something sweet, something spicy, and a pie that's out of this world! Plus, Dear Daniel® is making dinner, but… you might want to make other plans. Hello Kitty also makes a new friend with a HUGE appetite! And save room for dessert! Special guest artist Stephanie Buscema also prepares some delectable bonus delights!
"The latest volume of our Hello Kitty series is full of cake, candy, and other sweet treats," says Traci Todd, Senior Editor, Perfect Square. "But there's also a giant, a trip to Mars, and a mummy on a dark and stormy night. In other words, there's something for every appetite in HELLO KITTY: DELICIOUS!"
Jacob Chabot is a New York City-based cartoonist, illustrator and writer. His comics have appeared in publications such as Nickelodeon Magazine, Mad Magazine, SpongeBob SquarePants comics, and various Marvel titles. He also illustrated HELLO KITTY: HERE WE GO! as well as Voltron Force: Shelter from the Storm and Voltron Force: True Colors for VIZ Media. His comic series, The Mighty Skullboy Army, is published by Dark Horse, and in 2008 Chabot was also nominated for an Eisner Award for Best Book for Teens.
Comic and book illustrator and game designer Jorge Monlongo hails from Spain and combines traditional and digital techniques to create worlds in beautiful colors that hide secrets. DELICIOUS! is his second HELLO KITTY title for VIZ Media/Perfect Square and his work has also been featured in several prominent magazines, including Rolling Stone.
Artist Ian McGinty resides in Savannah, Georgia, and his portfolio includes Adventure Time: Candy Capers (kaBoom!), Bravest Warriors (kaBoom!), HELLO KITTY (VIZ Media), UGLYDOLL (VIZ Media), and Suckers (Zenescope). He is also creator of Chomp! (Top Shelf).
Stephanie Buscema is an illustrator and painter from New York. She creates images heavily influenced by music, old monster movies, 1950s' kitsch and vintage children's books. Her days are spent in the studio where she works on cover illustrations, comic art, picture books and paintings for exhibitions.
VIZ Media's Perfect Square imprint focuses on delivering original comics, manga (graphic novels) and other children's books with an emphasis on strong storytelling, eye-popping graphics, empowering themes, and a dash of irreverence, that captures the imagination of a whole new generation.
Additional information on titles published by Perfect Square is available at www.PerfectSquare.com.
For more information on other manga titles from VIZ Media, please visit www.VIZ.com.
Last Updated: August 31, 2023 - 08:12