VIZ Media and Perfect Square Say "Hello Kitty: Here We Go!"
By The Editor
October 10, 2013 - 09:43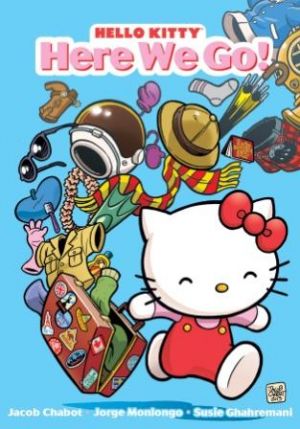 Hello Kitty: Here We Go cover image
VIZ MEDIA's PERFECT SQUARE IMPRINT ANNOUNCES A NEW HELLO KITTY® GRAPHIC NOVEL ADVENTURE, HELLO KITTY: HERE WE GO!
The World's Most Famous Pop Culture Icon Debuts In Her First-Ever Graphic Novel Series From VIZ Media's Innovative All-Ages Publishing Imprint
VIZ Media, LLC (VIZ Media), the largest publisher, distributor and licensor of manga, graphic novels and anime in North America, delivers a brand new original Hello Kitty® adventure from its Perfect Square kids imprint with the release of HELLO KITTY: HERE WE GO!. Centered around the theme of travel, HERE WE GO! (available now) features stories and colorful artwork by Jacob Chabot and Jorge Monlongo, is rated 'A' for All Ages, and carries an MSRP of $7.99 U.S. / $9.99 CAN. Special guest artist Susie Ghahremani also takes Hello Kitty on some fun unexpected side trips in this new release.
A digital version is also available for $4.99 U.S. / CAN from the Perfect Square App, which has titles available for the Apple iPad® and iPad® Mini. The Perfect Square App is available from the iTunes store.
Join Hello Kitty in HELLO KITTY: HERE WE GO as she explores an underground realm, moonlights as an international super spy, climbs the Himalayas, travels back in time, and discovers that sometimes, the best place to get away from it all is between the pages of a good book.
VIZ Media's Perfect Square imprint focuses on delivering original comics, manga (graphic novels) and other children's books with an emphasis on strong storytelling, eye-popping graphics, empowering themes, and a dash of irreverence, that captures the imagination of a whole new generation.
"Smart, funny, adventurous--HELLO KITTY is the quintessential modern girl, and we're thrilled to be the first to tell her stories in comic form," says Traci Todd, Senior Editor of Perfect Square. "Our original HELLO KITTY graphic novels offer an entirely new way to get to know the world's most famous pop culture icon."
Jacob Chabot is a New York City-based cartoonist, illustrator and writer. His comics have appeared in publications such as Nickelodeon Magazine, Mad Magazine, SpongeBob SquarePants comics, and various Marvel titles. He also illustrated VOLTRON FORCE: SHELTER FROM THE STORM and VOLTRON FORCE: TRUE COLORS for VIZ Media. His comic series, The Mighty Skullboy Army, is published by Dark Horse, and in 2008 Chabot was also nominated for an Eisner Award for Best Book for Teens.
Comic and book illustrator and game designer Jorge Monlongo hails from Spain and combines traditional and digital techniques to create worlds in beautiful colors that hide secrets. His work has been featured in several magazines, including Rolling Stone. Jorge lives in Spain.
HELLO KITTY guest artist Susie Ghahremani has created a wide array of work for editorial and commercial clients including Chronicle Books, Bloomsbury USA, Bank of America, The New York Times, T-Mobile, and Target. In addition to developing her own line of stationary, the award-winning artist exhibits paintings internationally and has illustrated her first picture book, What Will Hatch?.
Additional information on titles published by Perfect Square is available at www.PerfectSquare.com.
For more information on other manga titles from VIZ Media, please visit www.VIZ.com.
About VIZ Media, LLC
Headquartered in San Francisco, California, VIZ Media distributes, markets and licenses the best anime and manga titles direct from Japan. Owned by three of Japan's largest manga and animation companies, Shueisha Inc., Shogakukan Inc., and Shogakukan-Shueisha Productions, Co., Ltd., VIZ Media has the most extensive library of anime and manga for English speaking audiences in North America, the United Kingdom, Ireland, Australia, New Zealand and South Africa. With its popular digital manga anthology WEEKLY SHONEN JUMP and blockbuster properties like NARUTO, BLEACH and INUYASHA, VIZ Media offers cutting-edge action, romance and family friendly properties for anime, manga, science fiction and fantasy fans of all ages. VIZ Media properties are available as graphic novels, DVDs, animated television series, feature films, downloadable and streaming video and a variety of consumer products. Learn more about VIZ Media, anime and manga at www.VIZ.com.
About Sanrio
Sanrio, best known for global icon Hello Kitty and home to many endearing characters including Chococat, My Melody, and Keroppi, is a worldwide lifestyle brand founded on the "small gift, big smile®" philosophy -- that a small gift can bring happiness and friendship to people of all ages. For over 50 years, this philosophy has served as the inspiration for the broad spectrum of unique Sanrio products and experiences. Today, more than 50,000 Sanrio-branded items are available in over 70 countries and upwards of 15,000 U.S. locations including department, specialty, national chain stores and over 80 Sanrio boutiques. For more information, please visit www.sanrio.com and www.facebook.com/hellokitty.
Last Updated: August 31, 2023 - 08:12