VIZ Media Announces Second "Nura" DVD Set
By The Editor
August 18, 2013 - 10:24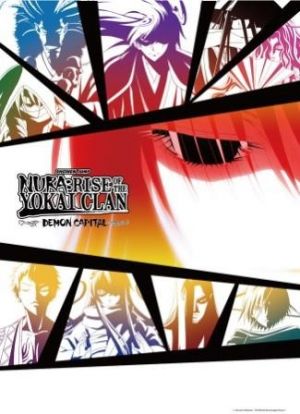 Nura key art image
VIZ MEDIA SET TO DELIGHT ANIME FANS WITH THE RELEASE OF NURA: RISE OF THE YOKAI CLAN SET 2 ON DVD AND BLU-RAY
A Middle School Student With A Secret Life Faces Down The 88 Demons Of Shikoku In The Latest Story Arc Of The Smash Hit Supernatural Action Adventure
VIZ Media, LLC (VIZ Media), the largest distributor and licensor of anime and manga in North America, delivers the latest supernatural action and adventure of NURA: RISE OF THE YOKAI CLAN as it announces the release of Set 2 of the popular anime series on DVD and Blu-ray on August 20th.
NURA: RISE OF THE YOKAI CLAN Set 2 is rated 'TV-14' and will carry a DVD MSRP of $44.82 U.S. / $43.24 CAN and a Blu-ray MSRP of $54.97 / $66.15 CAN. The 2-disc set features Episodes 14-26 as well as bonus material including production art and an official trailer.
Rikuo Nura is an average middle school student by day and yokai (a supernatural demon) by night. He's not just any yokai – he is the grandson of Nurarihyon, the Supreme Commander of the Nura clan! Rikuo wants to live a normal life. However, his grandfather wants him to succeed as the rightful heir. When an inter-clan conflict threatens the stability within their organization, Rikuo must decide whether he will live his life as a human or accept his yokai heritage.
In NURA: RISE OF THE YOKAI CLAN Set 2, the Nura Clan faces a menacing new threat: the 88 Demons of Shikoku, led by Inugamigyobu-Tanuki Tamazuki! Tamazuki sets his plan in motion to weaken the Nura Clan by targeting their key source of power – the local deities of Ukiyoe Town. In the absence of Supreme Commander Nurarihyon, Rikuo's resolve to become the Third Heir is put to the test, as he must unite the clan to face Tamazuki and his malicious weapon the Devil's Blade!
NURA: RISE OF THE YOKAI CLAN is based on the bestselling NURA: RISE OF THE YOKAI CLAN manga series created by Hiroshi Shiibashi (rated 'T' for Teens; also published by VIZ Media's Shonen Jump imprint). Hiroshi Shiibashi debuted in Japan in Business Jump magazine with the series, Aratama. NURA: RISE OF THE YOKAI CLAN is his breakout hit.
More information on NURA: RISE OF THE YOKAI CLAN is available at http://www.viz.com/anime/dvd/nura-rise-of-the-yokai-clan-video.

Last Updated: August 31, 2023 - 08:12