VIZ Media Makes Offer to Android Users
By The Editor
December 4, 2012 - 17:56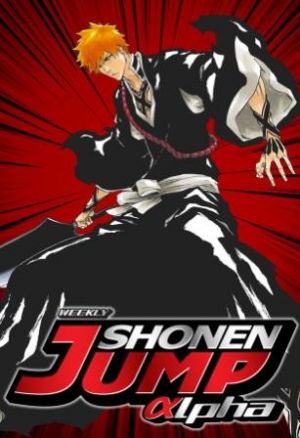 Weekly Shonen Jump Alpha Bleach cover
VIZ MEDIA OFFERS ANDROID USERS A NEW WAY TO READ WEEKLY SHONEN JUMP ALPHA FOR FREE
Readers New To Manga Or The Nation's Leading Weekly Digital Manga Magazine Are Invited To Sample Hot New Series With An Easy-To-Use Ad-Supported Option
VIZ Media gives Android users new to WEEKLY SHONEN JUMP ALPHA or the manga genre itself an easy reason to explore the nation's leading digital manga (graphic novel) magazine with a new ad-supported option that allows readers to read a complete issue for free.
Readers simply click on the "Free" button in the VIZ Manga app & choose from a variety of promotional offers from our advertising partners in order to get access to each week's issue of WEEKLY SHONEN JUMP ALPHA with no further commitment required. The ad-supported option is available only to Android users at this time.
Each digital edition of WEEKLY SHONEN JUMP ALPHA treats manga fans across North America to the latest chapters of some of the world's most popular manga series only two weeks after they debut in Japan's massively popular WEEKLY SHONEN JUMP magazine. Starting on January 21st, all weekly WEEKLY SHONEN JUMP ALPHA series will be publishing simultaneously with their release in Japan! Don't miss the latest installments of hot series such as BAKUMAN。, BARRAGE, BLEACH, BLUE EXORCIST, NARUTO, ONE PIECE and TORIKO as well as access to special editorial features and an extensive online fan-supported community. Also explore the range of special content and premium offers that are available exclusively to WEEKLY SHONEN JUMP ALPHA members from VIZ Media.
WEEKLY SHONEN JUMP ALPHA is available through an annual membership that provides 52 weeks of digital access to 48 weekly issues for just $25.99. Each issue may be read on VIZManga.com/sj-weekly, and also on the VIZ Manga App for iPad®, iPhone®, iPod® touch, and Android tablets and smartphones. For more information on WEEKLY SHONEN JUMP ALPHA and current exclusive subscriber offers, please visit SJAlpha.com.
Last Updated: August 31, 2023 - 08:12