VIZ Media Announces "Strobe Edge"
By The Editor
November 7, 2012 - 12:38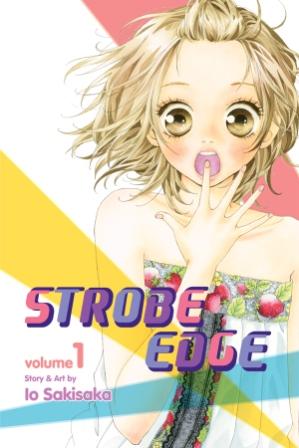 Strobe Edge Volume 1 cover image
VIZ MEDIA LAUNCHES NEW SHOJO MANGA SERIES STROBE EDGE
Captivating New Manga Series Captures The Thrill And Drama Of A Girl's First Love
VIZ Media, LLC (VIZ Media), the largest publisher, distributor and licensor of manga and anime in North America, gives shojo manga (graphic novel) fans a brand new series with the release of Io Sakisaka's STROBE EDGE. The first volume debuts today under the Shojo Beat imprint, is rated 'T' for Teens, and carries an MSRP of $9.99 U.S. / $12.99 CAN.
What is love, anyway? Ninako Kinoshita's friends tell her it's one thing, but Ninako wonders what this mysterious feeling really is. Her life takes an unexpected turn when she meets Ren Ichinose, a handsome, enigmatic guy that all the girls worship. With just a few words and a smile, he changes her entire world...
"STROBE EDGE showcases the intense feelings of first love—something readers can all relate to. This series is one of the most anticipated shojo releases among many North American fans," says Amy Yu, Editor. "Io Sakisaka has created a captivating story with gorgeous artwork and touching characters. STROBE EDGE is great for teen readers and even ideal for manga readers who are new to the shojo genre. We're really excited about it being published here, and hope that fans will check it out!"
Io Sakisaka made her debut as a manga creator with Sakura, Chiru. Her other works include Call My Name, Gate of Planet, and Blue. Her newest series, Ao Haru Ride, currently runs in Japan in the shojo manga magazine, Bessatsu Margaret.
For more information on STROBE EDGE, or other shojo manga titles from VIZ Media, please visit www.shojobeat.com.
Last Updated: September 6, 2021 - 08:15