VIZ Media Announces "Tiger & Bunny" License
By The Editor
June 3, 2011 - 10:25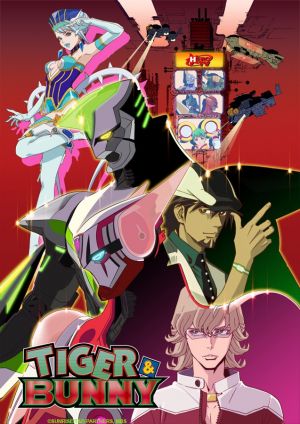 Tiger and Bunny key art
VIZ MEDIA ANNOUNCES PRODUCT LICENSE FOR HOT NEW ANIME ACTION SERIES TIGER & BUNNY
A Washed-Up Veteran And A Rookie With An Attitude Team Up To Become The Best And Worst Superhero Duo Of All Time!
VIZ Media, LLC (VIZ Media), the largest distributor and licensor of anime and manga in North America, has announced it has been named the exclusive U.S. product licensor for the new animated crime-fighting action series TIGER & BUNNY. The company will showcase the property to a variety of potential merchandise partners during the 2011 Licensing International Expo, held in Las Vegas, June 14th-16th, 2011. VIZ Media will be located in Booth #2481.
The Licensing International Expo is held at Mandalay Bay Convention Center and is the preeminent marketplace for the hottest international brands and properties. The vent features a show floor of more than 7,000 properties from all of Hollywood's major film studios, global entertainment companies, Fortune 500 consumer brands, sporting teams, interactive properties, fashion labels, and cutting-edge artists and designers. The annual event celebrated its 30th Anniversary in 2010.
TIGER & BUNNY currently simulcasts the same day it debuts in Japan on HULU (www.Hulu.com) and VIZAnime.com, the company's own exclusive web destination for anime. TIGER & BUNNY Blu-ray currently rank Number 1 on Amazon Japan, and a wide variety of toys, collectables, and other products are already licensed for the Japanese market.
"We're very excited to participate again at the Licensing International Expo, and this year we'll showcase TIGER & BUNNY, a new series that has been the subject of tremendous buzz among fan circles," says Tracy Hanchett, Director, Consumer Products. "With its multi-textured characters and unique blend of comedy and over the top action, the TIGER & BUNNY brand is ideally suited to a range of product merchandising options across all categories for the key male 14-25 demographic. We look forward to meeting with leading product partners at the show to explore the exciting range of possibilities for this hot new property."
TIGER & BUNNY (rated TV-14) is directed by Keiichi Sato (director of KARAS), with original character designs by Masakazu Katsura, creator of the manga series, I"S and VIDEO GIRL AI (also published by VIZ Media). Stern Bild is a metropolitan city where superheroes called NEXT help to maintain peace. Sporting sponsor logos on their suits, these heroes work to solve cases and save people's lives in order to earn Hero Points, while also helping to improve the public image of their corporate sponsors. Their activities are documented and broadcast by the popular show "HERO TV," in which each superhero strives to become the "King of Heroes" of the year.
One such hero is Wild Tiger (real name Kotetsu T. Kaburagi), a veteran superhero who relies on his years of experience and instincts to fight crime. Though obligated to work for his boss's best interest, Kotetsu follows his own code of honor and is even willing to cause destruction to public property for the sake of protecting the lives of his fellow citizens. Over time, he has grudgingly earned the nickname "Crusher for Justice." Now, Kotetsu suddenly finds himself forced to team up with rookie hero Barnaby Brooks Jr.
To view the official trailer and to follow TIGER & BUNNY on the official Facebook page, please visit http://www.facebook.com/TigerAndBunny.
For more information on TIGER & BUNNY and other animated titles from VIZ Media please visit www.VIZAnime.com.
Last Updated: February 5, 2023 - 09:06