VIZ Media Welcomes Natsume Ono to NYC
By The Editor
April 20, 2011 - 08:21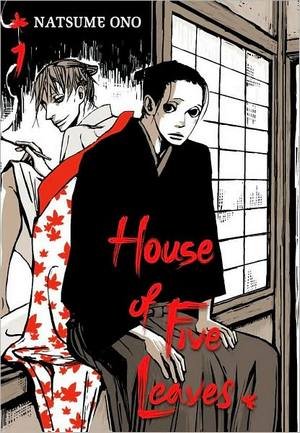 House of Five Leaves Volume 1 cover image
VIZ MEDIA AND KINOKUNIYA BOOKSTORE PRESENT MANGA ARTIST NATSUME ONO FOR A RARE LIVE APPEARANCE IN NEW YORK CITY
Special Event Celebrates The Creator Of RISTORANTE PARADISO And HOUSE OF FIVE LEAVES; Raffle Contest To Award Grand Prize Original Artwork
VIZ Media, LLC (VIZ Media), one of the entertainment industry's most innovative and comprehensive publishing, animation and licensing companies, together with Japanese licensor Ohta Shuppan, welcomes renowned manga (graphic novel) artist Natsume Ono for a personal appearance and special event celebrating her work, hosted by the Kinokuniya Bookstores of America Company (Kinokuniya Bookstore) in New York City on Tuesday, May 10th starting at 7:00pm.
Kinokuniya Bookstore is located at 1073 Avenue of the Americas, between 40th St. & 41st St., New York City.
The event will feature commentary from Ono on her past and present works and her continued evolution as one of the foremost manga artists and graphic novel storytellers, hosted by Megumi Sato of Samurai Beat Radio. An audience Q&A session will follow. A raffle contest (open to all attendees, one raffle ticket per person) also will award one lucky Grand Prize winner an original Natsume Ono artwork, signed in-person by the artist; 2 additional runner-up winners will get a Natsume Ono print. Each winner will also have the opportunity to have Ono sign one personal item at the event.
"We're extremely honored to partner with Kinokuniya Bookstore to present fans with a rare opportunity to meet one of manga's most talented creators," says Leyla Aker, Editorial Director. "Ono has deservedly earned a wide range of international accolades for her intelligent, genre-defying stories, and we look forward to introducing her work to new readers."
Natsume Ono's work is characterized by a minimalist yet sensual art style and composed psychological portraits that explore the relationships and dramas of everyday life. Ono made her professional debut in 2003 with the web comic, LA QUINTA CAMERA, and subsequent works such as not simple, RISTORANTE PARADISO, GENTE and HOUSE OF FIVE LEAVES (all published VIZ Media's Signature imprint) have pushed the manga genre in intriguing new directions and shown the creative breadth of this unique manga talent. RISTORANTE PARADISO and HOUSE OF FIVE LEAVES have both been adapted into animated TV series.
Natsume Ono's RISTORANTE PARADISO weaves a story around the lives of the staff of a restaurant in Rome and continues to follow the character's romances, heartaches, hopes and dreams in the follow-up manga, GENTE. Complex, powerful, and emotionally wrenching, not simple is a novel told in visual form about the search for family and an emotional home. HOUSE OF FIVE LEAVES, a many-sided tale of drama and intrigue set in the world of old Edo, was recently nominated for a 2011 Will Eisner Comic Industry Award for Best U.S. Edition of International Material – Asia.
Megumi Sato is one of the most unique bilingual show hosts in New York. Sato's Samurai Beat Radio is a multimedia project that promotes today's best Japanese music and other cultural happenings to a worldwide audience. Sato has extensive experience as a radio producer, on-air personality and writer, producing and hosting shows for Japan's premier commercial FM radio stations and writing about Japanese and American culture for various publications. For more information, please go to www.SamuraiBeatRadio.com and http://ameblo.jp/meguminy.
For more information on Natsume Ono or to check out other VIZ Signature titles, please visit www.SigIKKI.com.
Last Updated: September 6, 2021 - 08:15