New People to Hold Art Auction for Japan
By The Editor
March 30, 2011 - 13:11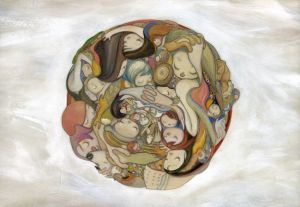 ONE by Patrick Awa
NEW PEOPLE PARTNERS WITH MAVERIX STUDIOS TO PRESENT -- ONE – AN ART AUCTION BENEFIT FOR JAPAN EARTHQUAKE/TSUNAMI RELIEF
Japanese Pop Culture Venue Teams With Bay Area Animation Studio To Present A Unique Event To Auction Artwork Created By Leading Animation And Film Industry Artists
NEW PEOPLE, the nation's only entertainment complex dedicated to Japanese popular culture, joins forces with San Francisco-based animation company Maverix Studios to present ONE, a silent auction art benefit to be held on Saturday April 2nd to raise funds and awareness for Japanese earthquake and tsunami relief. NEW PEOPLE's SUPERFROG Gallery hosts the special event and will open its doors at 12:00 noon for a public viewing of the auction items. A reception party and bidding begins at 7:00pm.
NEW PEOPLE and Maverix Studios will donate 100% of the proceeds to the Artists Help Japan Earthquake & Tsunami Fund and Mercy Corps. NEW PEOPLE is located in the heart of San Francisco's Japantown at 1746 Post St. More information on the auction event is available at: www.newpeopleworld.com.
ONE features an inspired collection of original artworks created by more than 35 celebrated artists from the animation and film industries, including works by artists from Pixar, LucasFilms, Dreamworks, Nickelodeon and many more. Participating artists include Dice Tsusumi, Robert Valley, Ronnie Del Carmen, Enrico Casarosa, Scott Morse, Bill Presing, Steve Purcell, Lou Romano, Cam De Leon, Tooru Terada, Daniel Simon, John Wayshak, Dan Mchale, Patrick Awa, Joey Chou, Ed Bell, Todd Ueminami, Marcos Mateu, Mari Inukai ,Yoriko Ito, Jackie Huang, Soosa Kim, Jamie Baker, Alina Chou, Oren Haskins, Sei Nakashima, Julia Lundman, Le Tang, Mark Sperber, Ted Mathot ,Tom Rubalcava, Derek Thompson, Sho Murase, Sergio Paez, Vaughn Ross, and Nate Stanton. Additional works from also critically acclaimed fine artists such as Miya Ando and Kent Williams will also be offered.
Artists Help Japan is a charity movement initiated by Dice Tsutsumi, art director at Pixar Animation Studios who was also behind 2008 Totoro Forest Project to help preserve Sayama Forest in Japan and currently in work in progress, Sketchtravel Project, to gather the force of communities of artists and creative minds around the world. They believe artists have special roles to contribute to the society.
Ten art communities from Los Angeles, San Francisco, New York, Paris, Toronto and Pittsburgh have signed up to do fund raising events to contribute to this movement and have collected over $60,000 through cash donations.
Artists Help Japan Earthquake & Tsunami Fund is responding to the immediate needs of survivors as well as short-term to long-term recovery projects undertaken by the affected communities. Artists Help Japan is partnering with Give2Asia and Mercy Corps for the U.S. fund raising drive. Both NPOs have long-lasting partnerships with local Japanese NPOs that are well regarded in Japan. It is said that the humanitarian mission in this case in Japan requires good coordination with local organizations and they believe their choices are some of the best choices to send your funds to help most effectively.
Mercy Corps is a highly regarded non-profit with a high efficiency rating on Charity Navigator and maintains a strong partnership with Peace Winds Japan, a highly regarded local Japanese NPO.
On March 11th, a potent 9.0 earthquake struck off the northeast coast of Japan near the city of Sendai and was the most powerful earthquake the country ever experienced. The earthquake and tsunami that followed displaced more than 100,000 children from their homes and more than 380,000 people have been evacuated across the country. Many tsunami-affected areas are still cut off from relief and Japan remains on high alert for the nuclear reactors in Fukushima. More than 465 roads, 43 railways and seven bridges have been completely washed away.
About Maverix Studios
Maverix is an animation co-op based in San Francisco, California. It was founded in 1993 by a principal group of industry veterans with extensive experience in feature films, serial animation, commercials, special effects, and print illustration. In addition to the moving image, Maverix members create and publish their own original comic books. More information is available at: http://maverixstudios.com.
About NEW PEOPLE, Inc.
Based in San Francisco, California, NEW PEOPLE, Inc. (www.newpeopleworld.com) offers the latest films, art, fashion and retail brands from Japan through its unique entertainment destination as well as through licensing and distribution of selective Japanese films. NEW PEOPLE Entertainment (www.newpeopleent.com), a film division of NEW PEOPLE, Inc. strives to offer the most entertaining motion pictures straight from the "Kingdom of Pop" for audiences of all ages, especially the manga and anime generation, in North America. Some titles include DEATH NOTE, GANTZ, KAMIKAZE GIRLS, and THE TASTE OF TEA.
Last Updated: September 6, 2021 - 08:15