Shonen Jump Website Has Exclusive Content
By The Editor
March 24, 2011 - 09:54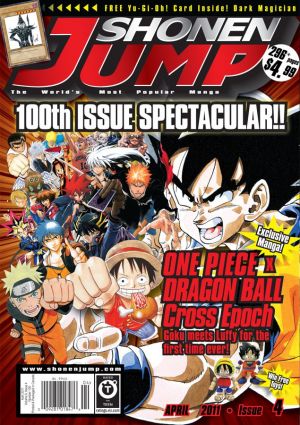 Shonen Jump April 2011 cover image
VIZ MEDIA'S SHONEN JUMP WEBSITE OFFERS EXCLUSIVE NEW CONTENT AND CELEBRATES "SJ HEROES WEEK" ONLINE
SHONEN JUMP Pays Homage To All The Great Manga Heroes That Have Appeared In VIZ Media Graphic Novels And The Magazine
VIZ Media, LLC (VIZ Media), one of the entertainment industry's most innovative and comprehensive publishing, animation and licensing companies, has announced that its SHONEN JUMP website will feature a special week-long "SJ Heroes Week," during which it will publish a different manga (graphic novel) hero profile online every day from March 27th to April 1st.
The SJ Heroes Week coincides with the new commemorative 100th issue of SHONEN JUMP magazine, which is on sale now. Fans and subscribers can log on to the SHONEN JUMP website at www.ShonenJump.com for fresh daily updates of all-time favorite manga heroes. A second round of SHONEN JUMP Heroes, to be featured in the upcoming May 2011 print edition (on sale April 5th), will post on the website during the second half of April with expanded entries for each manga character. This content further extends the magazine's new subscriber initiatives featured on the SHONEN JUMP website.
SHONEN JUMP's print and website redesign for 2011 welcomed the new decade with a fresh, contemporary look and notably expanded content. These new features complement several digital subscriber-only premiums, as well as the online debut of a brand new manga series, NURA: RISE OF THE YOKAI CLAN (rated 'T' for Teens). This is SHONEN JUMP's first title to be serialized digitally on ShonenJump.com. The redesigned site offers fresh content updated daily that includes special Manga Spotlight Features, Manga Profile Features, Anime Episode Updates, Weekly Fan Art submissions, Trading Card Game Tips, Video Game Features and much more!
"SHONEN JUMP magazine is the most popular manga magazine today, with over a million readers in its original language version in Japan, as well as hundreds of thousands of fans in the U.S.," says Joel Enos, SHONEN JUMP Senior Editor. "And now SHONEN JUMP is expanding its online coverage with new daily updates to give readers more of what they want – features on manga, anime, card games and video games, plus exclusive online manga content for subscribers. During the next two months, we'll also profile SHONEN JUMP heroes from a variety of SHONEN JUMP's most loved manga series. From international sensations like NARUTO and ONE PIECE to beloved classics like DRAGON BALL, we will spotlight every SJ hero that ever came out in the U.S. in either graphic novel format or in the magazine!"
For more information on SHONEN JUMP Magazine and other Shonen Jump titles, please visit www.ShonenJump.com.
Last Updated: August 31, 2023 - 08:12