VIZ Anime Streams Finale of Cross Game Anime
By The Editor
March 16, 2011 - 09:52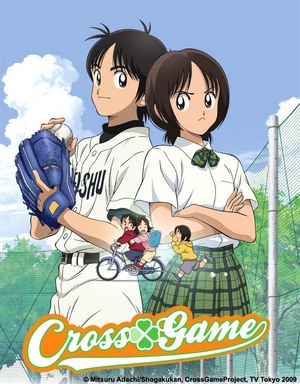 Cross Game anime key art
VIZ MEDIA PRESENTS THE FINALE TO THE HIT ANIME SERIES CROSS GAME
Concluding 2 Episodes Of The Coming-Of-Age Sports Drama Streaming On VIZAnime.com And HULU
VIZ Media presents the finale to the acclaimed anime series CROSS GAME with the availability of Episodes 49 and 50 today on VIZAnime.com, the company's own premiere website for anime, as well as through the streaming content provider HULU (www.Hulu.com). VIZAnime is a free-to-use interactive web destination that is now the permanent home to some of the company's best-loved animated series.
CROSS GAME is based on a hit manga (graphic novel) series created by Mitsuru Adachi and is set against the backdrop of baseball. The series is a moving coming-of-age drama that is heartfelt and true and flows delightfully with a light and amusing touch. It centers on a boy named Ko, a family of four sisters who live down the street, and their shared passion for the sport of baseball.
In the gripping series conclusion, Ko faces tough odds in the 12th inning of the final game. Thanks to Ko's pitching, his team has earned a one-run lead, and all the players are fully aware that a championship is just within reach. But pitching eleven innings is starting to take its toll. The count is full, and Ko must put his all into one last pitch!
One of the biggest names in the manga industry today, Mitsuru Adachi made his debut in 1970 with Kieta Bakuon in the pages of Deluxe Shonen Sunday. The creator of numerous mega-hits such as Touch, Miyuki, and Cross Game, Adachi-sensei received the Shogakukan Manga Award for all three of the aforementioned series. His cumulative works have seen over 200 million copies sold, and many of his series have been adapted into anime, live-action TV series and film. A master of his medium, Adachi has come to be known for his genius handling of dramatic elements combined with romance, comedy and sports.
For more information on the CROSS GAME manga and other titles from VIZ Media's Shonen Sunday imprint please visit www.ShonenSunday.com.
For more information on the CROSS GAME anime series, please visit www.VIZAnime.com.
Last Updated: August 31, 2023 - 08:12