VIZ Cinema Presents More Hatsune Miku
By The Editor
October 6, 2010 - 21:07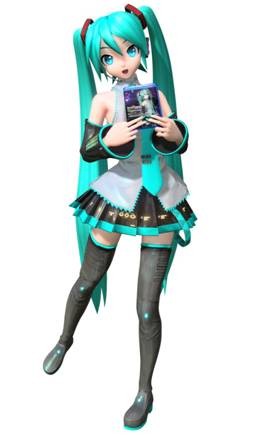 Virtual ido - Hatsune Miku
JAPAN'S TOP VIRTUAL IDOL – HATSUNE MIKU – RETRUNS TO VIZ CINEMA FOR A SPECIAL ENCORE PERFORMANCE
Internet Sensation's Live Concert Film Screens For One Night Only; Hatsune Miku Creator To Also Attend And Give Insights
VIZ Cinema and NEW PEOPLE are proud to present a special encore performance of Hatsune Miku U.S. Live – for One Night Only – on Monday, October 11th at 7:15pm.
The Hatsune Miku's 39′s Giving Day Film Concert captures the excitement and upbeat fun that was Project DIVA Presents Hatsune Miku's Solo Concert, which took place earlier this year at the futuristic Zepp Tokyo venue. The concert featured the singer, backed by a "live" band called the 39S Members. She performed 39 songs while being projected on a transparent screen set up on the stage, making her look like a living-sized hologram playing with a live band.
Also set to make a very special appearance at the screening will be the man behind the creation of Hatsune Miku, Hiroyuki Ito, president of Crypton Future Media. Prior to the screening, Ito give audiences the back story on the birth and development of Hatsune Miku and the growing international interest in her. Don't miss this rare chance to see this internet virtual phenomenon on the big screen and purchase one of a very limited supply of Japanese First Edition Blu-ray disc sets!
Miku Hatsune is a virtual pop idol that has taken Japan by storm. She was born as the premiere product in the Vocaloid2 Character Vocal Series developed by Crypton Future Media. The technology, originally designed for professional musicians, enables users to synthesize singing by inputting lyrics and a melody. In Japan, Vocaloid singers have become the hottest new trend in the pop culture landscape. Miku Hatsune features a singing voice based on samples of voice actress Saki Fujita.
VIZ Cinema is the nation's first movie theatre devoted exclusively to Japanese film and anime. The 143-seat subterranean theatre is located in the basement of the NEW PEOPLE building and features plush seating, digital as well as 35mm projection, and a THX®-certified sound system.
About NEW PEOPLE
NEW PEOPLE offers the latest films, art, fashion and retail brands from Japan and is the creative vision of the J-Pop Center Project and VIZ Pictures, a distributor and producer of Japanese live action film. Located at 1746 Post Street, the 20,000 square foot structure features a striking 3-floor transparent glass façade that frames a fun and exotic new environment to engage the imagination into the 21st Century. A dedicated web site is also now available at: www.NewPeopleWorld.com.
Last Updated: September 6, 2021 - 08:15