VIZ Media Announces Grand Guignol Orchestra
By The Editor
September 30, 2010 - 10:22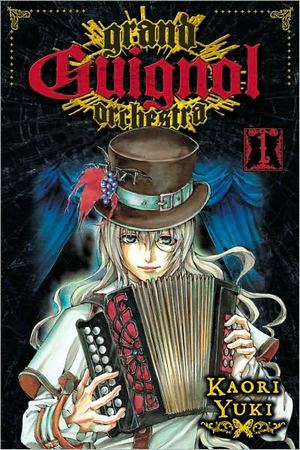 Grand Guignol Orchestra Volume 1 cover image
ATTEND A RECITAL FILLED WITH THE UNDEAD IN NEW MANGA SERIES GRAND GUIGNOL ORCHESTRA COMING IN OCTOBER FROM SHOJO BEAT
Queen Of Gothic Manga Kaori Yuki Delivers A Dark Masterpiece In A New Series Arriving In Time For Halloween
VIZ Media, LLC (VIZ Media), one of the entertainment industry's most innovative and comprehensive publishing, animation and licensing companies, has announced the launch of a new series from iconic manga (graphic novel) creator Kaori Yuki. Her latest series, GRAND GUIGNOL ORCHESTRA, will be published under the Shojo Beat imprint, is rated 'T+' for Older Teens, and will carry an MSRP of $9.99 U.S. / $12.99 CAN. The series debuts on October 5th.
Lucille loves heading up the traveling Grand Orchestra, roving from town to town, entertaining the masses and making money. But now the musicians have met their toughest audience yet: people infected with the Guignol Virus, turning them into zombie dolls intent on killing all humans!
"GRAND GUIGNOL ORCHESTRA is destined to become another dark masterpiece from the queen of gothic manga," says Pancha Diaz, Senior Editor, Shojo Beat. "The new series combines all of the elements that have made Kaori Yuki's work a favorite among manga fans. With richly detailed artwork and a twisted tale of horror and tortured romance, GRAND GUIGNOL ORCHESTRA takes readers to a recital where no one may make it out alive!"
Manga creator Kaori Yuki was born in Tokyo and began drawing at a very early age. Following her debut work, Ellie in Summer Clothes, in the Japanese magazine Bessatsu Hana to Yume, she went on to write a compelling series of short stories: Cruel Fairy Tales, Screw, and Gravel Kingdom. As proven by her best-selling manga series ANGEL SANCTUARY, GODCHILD, and FAIRY CUBE (all published in North America by VIZ Media), her celebrated body of work has etched an indelible mark on the gothic manga genre.
For more information on GRAND GUIGNOL ORCHESTRA, or other shojo titles from VIZ Media, please visit www.ShojoBeat.com.
Last Updated: August 31, 2023 - 08:12