VIZ Media Launches "Black Bird"
By Leroy Douresseaux
August 4, 2009 - 11:37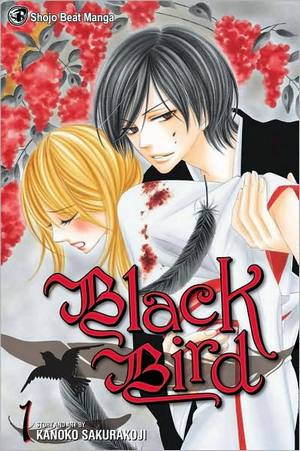 Black Bird #1 cover image
NEW BLACK BIRD MANGA SERIES TAKES FLIGHT FROM VIZ MEDIA
New Romantic Supernatural Adventure Series About A Teenage Girl Who Sees Ghosts Was The Winner Of The Prestigious 2009 Shogakukan Manga Award
VIZ Media, LLC (VIZ Media), one of the entertainment industry's most innovative and comprehensive publishing, animation and licensing companies, has announced the launch on August 4th of BLACK BIRD, a brand new shojo manga (graphic novels for girls) series by Kanoko Sakurakoji. BLACK BIRD is rated 'T+' for Older Teens and will carry an MSRP of $8.99 U.S. / $10.50 CAN.
There is a world of myth and magic that intersects ours, and only a special few can see it. Misao Harada is one such person, but she wants nothing to do with magical realms and just wants to have a normal high school life and maybe get a boyfriend. But all that changes one day when Misao is attacked by a demon. Her childhood friend Kyo suddenly returns to save her and tends to her cuts – with his tongue! It turns out Misao is the bride of prophecy, whose blood gives power to the demon clan who claims her. But most demons want to keep her power for themselves – by eating her! Now Misao is just trying to stay alive and trying to decide if she likes it when Kyo licks her wounds.
Manga creator Kanoko Sakurakoji debuted in 2000 with RAIBU GA HANETARA (WHEN THE LIVE JUMPS) in the monthly shojo manga anthology, Betsucomi. BLACK BIRD continues to be a feature of Betsucomi and won the prestigious Shogakukan Manga Award in 2009 for Best Shojo Series. Kanoko Sakurakoji is also the creator of the manga series BACKSTAGE PRINCE (rated 'T' for Teens), which is also published domestically by VIZ Media.
"BLACK BIRD again shows Kanoko Sakurakoji's artful shojo style that made BACKSTAGE PRINCE such a hit and this time she blends romance with a somewhat darker story about the supernatural spirit world," says Gonzalo Ferreyra, Vice President, Sales & Marketing for VIZ Media. "BLACK BIRD will be a favorite with shojo enthusiasts but it's also a great introduction to manga for female fans of the supernatural and fantasy genres.
Last Updated: August 31, 2023 - 08:12