VIZ Media Anounces "Shojo Beat" Art Issue
By The Editor
March 12, 2009 - 09:16
VIZ MEDIA ANNOUNCES ANNUAL ART ISSUE OF SHOJO BEAT MAGAZINE
April 2009 Issue Covers Visual Arts And Techniques Taught By Leading Manga Creators Well As Fashion, Crafts And More
VIZ Media, LLC (VIZ Media), one of the entertainment industry's most innovative and comprehensive publishing, animation and licensing companies, has announced an exciting issue for its annual Art Issue of SHOJO BEAT magazine, expected to hit newsstands nationwide on March 17th. In addition to the next installments of the currently serialized shojo manga series HONEY AND CLOVER, HONEY HUNT, CRIMSON HERO, SAND CHRONICLES, HARUKA: BEYOND THE STREAM OF TIME and VAMPIRE KNIGHT, this special issue will allow readers to explore the latest trends in Japanese kawaii artwork, evaluate the approaches of top shojo manga creators and more!
The special April 2009 Art Issue of SHOJO BEAT, a continual favorite with readers takes a broad approach to art, focusing not only on visual arts but also fashion, crafts, and cooking. "The Fine Art of Kawaii" spotlights five key Japanese artists who have captured the often elusive cutting-edge of cute. "Manga Art Schooled" analyzes the varied and distinctive art styles of five master shojo manga creators including Matsuri Hino (VAMPIRE KNIGHT), Arina Tanemura (The Gentlemen's Alliance †, FULL MOON), and the talented female artists who compose CLAMP (X/1999). Readers and budding artists can gain tremendous insight into each of these artists' styles and understand and apply these unique techniques to their own work. Finally, "Cooking: Feast for Your Eyes" will offer up 10 easy and creative tips for artistic food plating.
"We are excited to present SHOJO BEAT's annual Art Issue knowing the tremendous interest it generates among our very creative readers," says Narasu Rebbapragada, Senior Editor, Shojo Beat Magazine. "Research has shown that SHOJO BEAT readers draw regularly or are similarly creatively inclined, so we're confident that this year's issue combining fun and savvy articles will again be a huge success!"
The issue also contains an exclusive preview of Rinko Ueda's TAIL OF THE MOON PREQUEL: THE OTHER HANZO(U), whose story is a prelude to the popular romantic ninja comedy TAIL OF THE MOON.
For more information on Shojo Beat magazine, which is rated 'T+' for older teens, please visit www.ShojoBeat.com.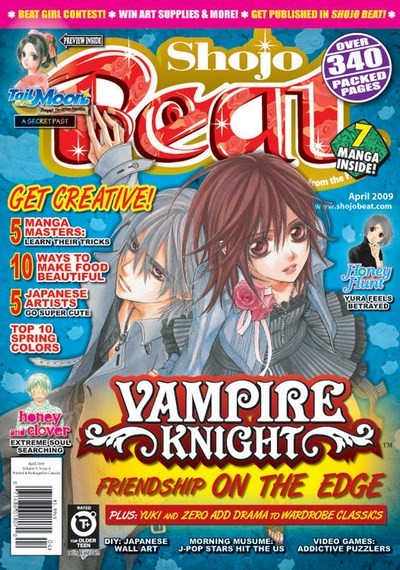 Shojo Beat April 2009 cover image. This "Art Issue" hits stands, Tue., March 17.
Last Updated: May 19, 2020 - 12:25