Viper Comics - Growth by Design
By Hervé St.Louis
November 2, 2006 - 20:57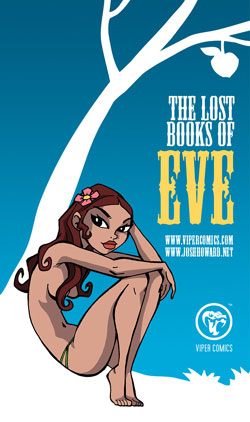 The Book of Eve #1
When
Viper Comics
started publishing comic books in 2003, they impressed a lot of people, including The Comic Book Bin, in the way they handled the business and the creative side of things. The Company that began with the
Dead@17
franchise series, and the stillbirth Moonrush mini-series, is still active.
Current projects at Viper Comics include two ongoing series. One is based on the Dead@17 franchise while the other is called The Lost Books of Eve, by Dead@17's original creator, Josh Howard. Another series in the work is a new title called A Bit Haywire, an original graphic novel. Although there is tougher competition for little shelf space in the comic book market, Viper Comics' president, Jessie Garza describes the market as "OK."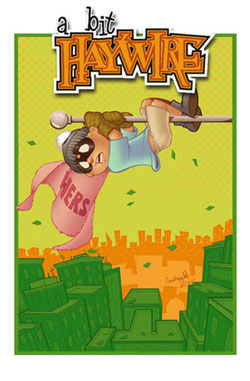 Haywire #1
After a collaboration on a company crossover between Devil's Due Publishing and Viper Comics, In 2005, Josh Howard published a series at Devil's Due Publishing called Misplaced@17 which combined the Christian adventure epic of Dead@17 with the cyberpunk character Alyssa from the Misplaced series. Around the same time, Howard published a series called Black Harvest at Devil's Due Publishing. According to Garza, Howard "just wanted to publish a project with another publisher . . . nothing wrong with trying other options . . . as far as we're concerned he never left . . . during the time frame he was publishing with Devils Due we published a couple of other projects on in particular his art book Volume 2." It seems that Howard's situation at Viper Comics was not that of a prodigal son returning.
Something particular at Viper Comics, which is different from other business models and publishing contracts used in the comic book industry, is that copyrights for series published through the publisher are shared between creators and the former.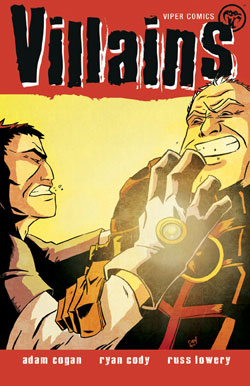 Villains #1
But business strategy is not all that Viper Comics has that differs from other companies in the comic book industry. Viper Comics has always had a style of its own. Although Garza "wouldn't say" that Viper Comics "has a set art style" he says that it "tries to incorporate design into artwork and all we do . . . " Comic book series published by Viper Comics have a sort of house style, in the sense, that the projects look more cartoony and more exploratory in its expression. Few comic book publishers have such a high sense of design in the work they market.
What is strange, is that although there is a strong design influence on Viper Comics's comic books, according to Garza, "each book is treated individually." That's a lot of work for a small publisher. Garza says that the "company is comprised of 2 main individuals carrying the bulk of the work, and we have a couple of a couple of people assisting . . . then we have our regular group of artists and writers we work with regularly."
Since it started operating, Viper Comics has released several mini-series. Most have been available as trade paperback quickly after. It's quite easy for comic book readers interested in the work of Viper Comics to complete their reading lists.
Last Updated: September 6, 2021 - 08:15