Comics / Manga / Yaoi Manga
Vampire's Portrait: Volume 2 (Yaoi)
By Leroy Douresseaux
February 24, 2010 - 11:05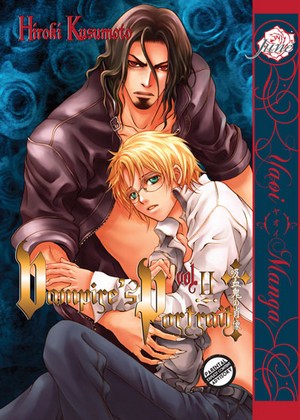 Vampire's Portrait Volume 2 cover image
Drama/Romance; Rated "18+ for Mature"
In the manga horror drama, Vampire's Portrait, from creator Hiroki Kusumoto, a young painter accepts a commission that transports him into the world of the vampire.
Lou makes his living as a street vendor, selling his paintings. One day, Sein Herz, a tall, dark stranger, becomes taken with Lou's talent at portraiture. Sein becomes Lou's patron, commissioning the young artist to produce a painting of Sein's "true face." Although Lou produces painting after painting, Sein rejects them all. Later, a careless accident forces Sein to reveal to Lou that he is a vampire. Lou also discovers that there are two other men in Sein's life. Adam de Vinny is the man who has a contract with Sein to give the vampire his blood, and Verloren is Sein's devious older brother, who plots to kill his younger sibling.
As Vampire's Portrait, Vol. 2 begins, Sein recovers from a grave injury inflicted upon him by Verloren. Lou reluctantly joins forces with Adam, his rival for Sein's attentions, to stop Verloren's plot against Sein. But the long-lived Verloren wants Sein to kill him, but will that act force Sein to share Verloren's fate?
THE LOWDOWN: There is very little romance in this second volume of Vampire's Portrait, but there are a few scenes of rough sex. This is a dark fantasy and horror drama that delves deeply into vampire lore, twisting vampire legend into something wet, stanky, nasty, and truly horrifying. One could make an argument that Vampire's Portrait is the most interesting and imaginative vampire comic book currently on the market.
Hiroki Kusumoto's art, which is akin to a messy melding of Gene Colan's work on Tomb of Dracula and Saiko Takaki's art for the Vampire Hunter D manga, makes this series a must-have for fans of horror and dark fantasy comics. Honestly, this isn't very satisfying as romance, but there is something in these pages of beautifully sinister sequential art and graphic storytelling that thirsts for extended life. This vampire mythology should not just go away quietly into the night.
POSSIBLE AUDIENCE: Excellent art and unique vampire lore will attract readers to Vampire's Portrait.
B+
Read more by me at www.negromancer.com
Last Updated: August 31, 2023 - 08:12