Comics / Manga / Yaoi Manga
Vampire's Portrait: Volume 1 (Yaoi)
By Leroy Douresseaux
Jan 21, 2009 - 10:35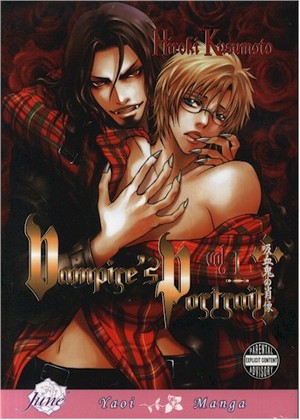 Vampire's Portrait cover images is courtesy of Anime Castle Books.
Rated "M" for "Mature Audiences 18+"
A young painter enters the hotter blood world of vampires in Vampire's Portrait, Vol. 1, a yaoi manga by Hiroki Kusumoto.
Lou is a young portrait painter who makes his living selling his wares as a street vendor. He has a chance encounter with Sein Herz, the proverbial "tall, dark and handsome" man, who is taken by Lou's talent at portraiture. Sein becomes Lou's patron and commissions the young artist to produce a painting of Sein's "true face." As he works, Lou wonders what secrets flicker within Sein's fiery gaze. Who is this brooding man, Lou asks himself as he produces one painting after another that Sein rejects.
Then, a careless accident forces Sein to reveal that he is a vampire, and so begins a whirlwind romance between patron/diner and artist/meal. Then, Lou meets Adam de Vinny, the other man who has a contract with Sein, and Adam doesn't want to share his vampire.
THE LOWDOWN: In Vampire's Portrait, the depictions of sex that readers expect from yaoi manga come in the form of a vampire's mouth to the neck of his victim-lover. Sein's hands offer anxious caresses all over Lou's body, as Lou throws his head back and awaits his vampire benefactor's bite. The romance is real; if it's possible to believe that a vampire could truly, romantically love a human, Vampire's Portrait is a convincing as any other tale of vampire love.
Beyond the story of passionate love, Vampire's Portrait offers an exciting pot boiler of a thriller plot that occasionally had me racing through the pages so fast that I missed a "sex scene" or two. That aspect of Hiroki Kusumoto's story is the kind of melodramatic, pulpy, dark fantasy one might have found in Marvel Comics' 1970s B&W fantasy magazines. However, Kusumoto's art is not like Gene Colan's work on Tomb of Dracula, but instead resembles Saiko Takaki's art for the Vampire Hunter D manga.
POSSIBLE AUDIENCE: While I have a few quibbles with its narrative, the beautiful heavily detailed, pen and ink-style art of Vampire's Portrait make it practically a must-have for fans of yaoi dark fantasy series.
B+
Visit www.digitalmanga.com.
Read more of my work at www.negromancer.com
Last Updated: Jun 26, 2018 - 9:28