Vampire Knight: Volume 18 Advance manga review
By Leroy Douresseaux
May 4, 2014 - 14:07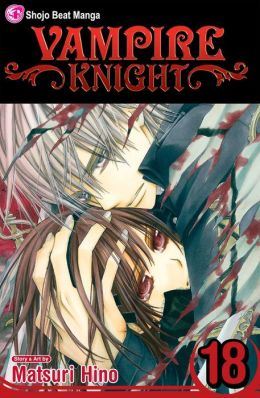 Vampire Knight Volume 18 cover image is courtesy of barnesandnoble.com.
Follow Leroy on Twitter.
Rated "T+" for "Older Teen"
Cross Academy is a private boarding school with two classes: the Day Class and the Night Class. Most of the Day Class students do not know that the Night Class students are actually vampires. Yuki Cross is the adopted daughter of Headmaster Kaien Cross and a pureblood vampire. Zero Kiryu is a human suffering from the curse of the vampire. Together, they are the Guardians of the school, patrolling the hallways and school grounds to protect the Day Class humans from the Night Class vampires.
As Vampire Knight, Vol. 18 (Chapters 84 to 88) opens, chaos reigns at the headquarters of the Hunter Society. It has become the site of a battle between Yuki and her pureblood vampire brother, Kaname Kuran, as she tries to stop his murderous rampage against other pureblood vampires. Sara Shirabuki tries to control Zero through her blood, hoping Zero can protect her from Kaname.
As the battle rages, the Origin Metal of the female vampire progenitor arises and attacks everyone. This is the metal that the Hunter Society uses to forge vampire-killing weapons. In the chaos, Kaname escapes. Now, Yuki and Zero pursue him. That leads them to the oldest pureblood vampire, Isaya Shoto.
THE LOWDOWN: The Vampire Knight manga is not always on my mind, as some comic books (Batman) and manga (Naruto) are. When I see a copy of Vampire Knight, however, I am ready to dive in. Along with the vampires of the original Underworld film (2003), the vampires of Vampire Knight are some of my favorite vamps.
Vampire Knight Volume 18 is a treat for longtime readers, as creator Matsuri Hino focuses on Yuki and Zero's relationship. It is like a ghost story, as all the ghosts of this duo's emotions, feelings, and past come wailing back. The ending will leave Vampire Knight fans salivating and thirsting (of course) for Vol. 19.
POSSIBLE AUDIENCE: If you want nosferatu manga, you want the shojo beat title, Vampire Knight.
Rating: A- /10
Last Updated: August 31, 2023 - 08:12