Vampire Knight: Volume 17 manga review
By Leroy Douresseaux
October 28, 2013 - 13:14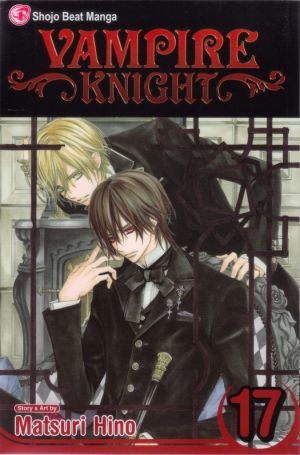 Vampire Knight Volume 17 cover image
Rated "T+" for "Older Teen"
Cross Academy, a private boarding school, has two classes: the Day Class and the Night Class. The Day Class students (well, perhaps not all of them) do not know that the Night Class students are actually vampires. Yuki Cross is the adopted daughter of Headmaster Kaien Cross and a pureblood vampire. Zero Kiryu is a human suffering from the curse of the vampire. Together, they are the Guardians of the school, patrolling the hallways and school grounds to protect the Day Class humans from the Night Class vampires.
As Vampire Knight, Vol. 17 (Chapters 79 to 83) opens, pureblood vampire, Kaname Kuran (the head of the Kuran Clan), continues his war against pureblood vampires. Kaname had freed Shizuka Hio, a vampire, so that she can attack a prominent vampire-hunting couple, in a bid to spur the Hunter Society into helping him in his cause.
Meanwhile, conniving pureblood vampire, Sara Shirabuki, seeks safe haven at Cross Academy and tries to get the Hunters to protect her from Kaname. But it may be Yuki who comes to her rescue.
THE LOWDOWN: Previously, I wrote that the Vampire Knight manga was not a comic book about which I often thought. However, I have been thinking about the series recently. I think that at this point in the narrative, creator Matsuri Hino, is making moves to return the series to its roots at Cross Academy. For a long time, the series has delved into the origins of various prominent vampires and of vampires as a group.
During the time, Yuki Cross, the lead character, changed, but even in her changed state, she seems to be returning, in some ways to the girl we first saw. Meanwhile, Vampire Knight Volume 17 is like a comic book version of the Blade film franchise. Lots of violence, I tell ya.
POSSIBLE AUDIENCE: If you want real vampire manga; it's called Vampire Knight.
Rating: A- /10
Last Updated: August 31, 2023 - 08:12