Vampire Knight: Volume 16 manga review
By Leroy Douresseaux
March 3, 2013 - 17:20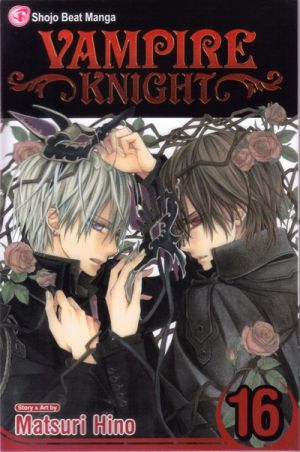 Vampire Knight Volume 16 cover image
Rated "T+" for "Older Teen"
The private boarding school, Cross Academy, has two classes: the Day Class and the Night Class. The Day Class students do not know that the Night Class students are actually vampires. Yuki Cross is the adopted daughter of Headmaster Kaien Cross and a pureblood vampire. Zero Kiryu is a human suffering from the curse of the vampire. Together, they are the Guardians of the school, patrolling the hallways and school grounds to protect the Day Class from the vampires.
As Vampire Knight, Vol. 16 (Chapters 74 to 78) opens, Yuki meets Zero for a private conversation. Yuki is now desperate for blood, so Zero offers his own. Is she prepared to break her promise to Kaname Kuran, the head of her clan, not to drink Zero's blood?
By a vote of the Night Class, Sara Shirabuki becomes the Night Class president, beating out Yuki, whom Sara immediately appoints Night Class dorm president. Kaname continues to hunt pureblood vampires, for which Headmaster Cross confronts him. Then, there are the "Underground Tablets."
THE LOWDOWN: The Vampire Knight manga is not something of which I often think. However, whenever I get my VIZ Media comp-review copies, and there is a copy of Vampire Knight inside the box, I'm glad to see it. Vampire Knight is usually good, but some volumes are exceptionally better than others. Vampire Knight Volume 16 is one of the better ones.
Now, that Yuki Cross and her vampire brethren have returned to Cross Academy, they've made the place a hot mess again, and returned the series to its best days. Zero is all twisted about Yuki and his position as a Hunter. Kaname is raising hell among the pureblood vamps, and Headmaster Cross is trying to be a bleeding heart among vampires. Best of all, Yuki now has a worthy rival in the bitchy, witchy Sara Shirabuki. It's on!
POSSIBLE AUDIENCE: If you're reading the Twilight manga/graphic novel, you'll want to try a real vampire manga; it's called Vampire Knight.
Rating: A /10
Last Updated: August 31, 2023 - 08:12