Vampire Knight: Volume 15 manga review
By Leroy Douresseaux
November 4, 2012 - 14:17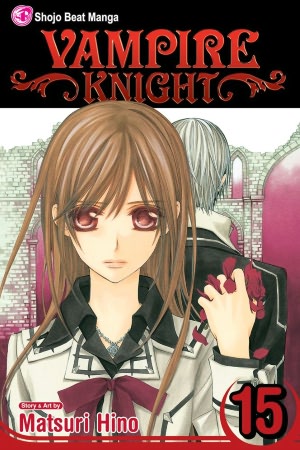 Vampire Knight Volume 15 cover image is courtesy of barnesandnoble.com.
Rated "T+" for "Older Teen"
Cross Academy is a private boarding school with two classes: the Day Class and the Night Class. The Day Class students do not know that the Night Class students are actually vampires. Yuki Cross, the adopted daughter of Headmaster Cross, and Zero Kiryu, a human suffering the curse of the vampire, are Guardians of the school, patrolling the hallways and school grounds to protect the Day Class from the vampires.
As Vampire Knight, Vol. 15 opens, the aftermath of the murder of Hanabusa Aido's father begins. The assailant, Kaname Kuran, has disappeared. With Kaname, who is her brother, missing, Yuki steps in as acting head of the Kuran clan. She tries to maintain the fragile peace between the humans and the vampire societies, but the vampire aristocrats do not trust or even respect her. Meanwhile, the Hunter Society steps up its activities against rogue vampires. Determined to improve things, Yuki plots a return of the Night Class to Cross Academy.
THE LOWDOWN: Although I did not read Volume 14 of the Vampire Knight manga, I did not have a hard time catching up on the action in Volume 15. Longtime readers will like this volume as creator Matsuri Hino returns to story elements that defined the early chapters of Vampire Knight. I certainly prefer the high school intrigue over the vampire society melodrama that has recently dominated the action in this series. Readers who left Vampire Knight will want to return – at least temporarily.
POSSIBLE AUDIENCE: Vampire fans looking for vampire comics will not go wrong with the "Shojo Beat" constituent, Vampire Knight.
Rating: B+ /10
Last Updated: December 31, 2019 - 20:28