Vampire Knight: Volume 13
By Leroy Douresseaux
Oct 4, 2011 - 11:37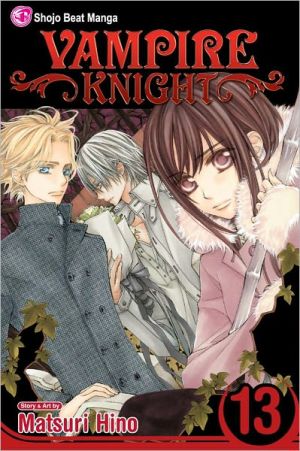 Vampire Knight Volume 13 cover image
Rated "T+" for "Older Teen"
Cross Academy is a private boarding school with two classes. As the Day Class students return to their dorms at twilight, they do not know that the Night Class students on their way to school are actually vampires. Yuki Cross, the adopted daughter of Headmaster Cross, and Zero Kiryu, a human suffering the curse of the vampire, are Guardians of the school, patrolling the hallways and school grounds to protect the students of the Day Class from the vampires.
In Vampire Knight, Vol. 13, Yuki visits a graveyard where she is attacked by another pureblood vampire. Once safely back in the arms of her pureblood vampire brother, Kaname Kuran, Yuki gets to share Kaname's blood which lets her experience his distant memories. Yuki journeys way back in human and vampire history where she sees the beginnings of a special relationship. Meanwhile, vampire hunter Zero takes vampire pretty boy, Hanabusa Aido, into custody.
THE LOWDOWN: Perhaps, this is not a good jumping on point for new readers, but for long time readers, Vol. 13 is a whirlwind of revelations – some shocking, but all of them imaginative. Creator Matsuri Hino always seems to find a hook, angle, or twist to keep readers reading. Her clean drawing and design style, which sometimes does not emphasize background detail, is perfect for the flashback/time travel sequences. The lack of background detail gives a ghostly feel to the flashbacks, which is the right tone. As always, Vampire Knight remains crazy, sexy, cool.
POSSIBLE AUDIENCE: Vampire fans looking for vampire comics will not go wrong with Vampire Knight.
A-
Last Updated: Jun 26, 2018 - 9:28