Vampire Knight: Volume 12
By Leroy Douresseaux
June 5, 2011 - 08:17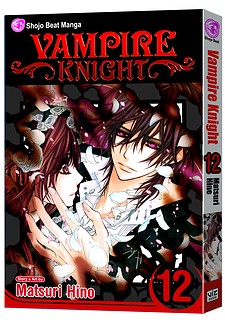 Vampire Knight Volume 12 3D cover image
Rated "T+" for "Older Teen"
Cross Academy, a private boarding school, has two classes. As the Day Class students return to their dorms at twilight, they do not know that the Night Class students on their way to school are actually vampires. Yuki Cross, the adopted daughter of Headmaster Cross, and Zero Kiryu, a human suffering the curse of the vampire, are Guardians of the school, patrolling the hallways and school grounds to protect the students of the Day Class from the vampires.
As Vampire Knight, Vol. 12 opens, one year has past since Yuki and her brother, pureblood vampire, Kaname Kuran, left Cross Academy. Now, Yuki prepares for her first vampire soirée, where she will be presented to the vampire high society, and things don't go as expected. A pureblood vampire and vampire hunter turn up dead in what looks like a murder suicide. Meanwhile, pureblood princess, Sara Shirabuki, makes a series of moves that suggest she is plotting something.
THE LOWDOWN: As the narrative moves deeper into vampire society, Vampire Knight offers some of its best storytelling. Courtly intrigue, family discord, conspiracy, incestuous romance, tribal war, and class warfare are all in the mix as this shojo dark fantasy turns the fantastic into high drama. Creator Matsuri Hino's art, as usual, offers rich textures, stylish compositions, and elegant page design that still sparkle in black and white art. And remember: Vampire Knight vamps are as cool as Twilight film vamps.
POSSIBLE AUDIENCE: Young female readers who like vampire fiction can discover comics and manga through Vampire Knight.
A-
Last Updated: January 24, 2022 - 11:00