Vampire Knight: Volume 10
By Leroy Douresseaux
May 28, 2010 - 15:47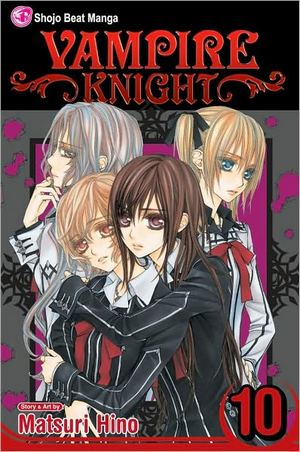 Vampire Knight Volume 10 cover image is courtesy of barnesandnoble.com.
Rated "T+" for "Older Teen"
The private boarding school, Cross Academy, has two classes – the Day Class and the Night Class. As the Day Class students return to their dorms at twilight, they do not know that the Night Class students on their way to school are actually vampires. Yuki Cross, the adopted daughter of Headmaster Cross, and Zero Kiryu, a human suffering the curse of the vampire, are Guardians of the school, patrolling the hallways and school grounds to protect the students of the Day Class from the vampires.
As Vampire Knight, Vol. 10 begins, the question is, will Zero, given new powers, kill Yuki? Rido Kuran, Yuki's resurrected uncle and the man who killed her father, is gone, and his conspiracy with the vampire Senate is falling apart. Yuki's betrothed, Kaname Kuran, dispatches the Senate, as its ties with the vampire killing Hunters Society are revealed. Because of the turmoil at Cross Academy, the Day Class finally gets a clue, but how will the day students now react to their Night Class counterparts?
THE LOWDOWN: This 10th volume of Vampire Knight features some of the best art of the series. There are rich textures, stylish compositions and page layouts, and design meant to emphasize the violence and moodiness of the chapters contained herein. Creator Matsuri Hino sure knows how to make black and white art look as ornate and rich as sumptuously colored art. Plus, this volume has that moment for which many readers have been waiting – the reaction of the human students when they learn about the vampires.
POSSIBLE AUDIENCE: Young female readers who like vampire fiction can discover comics and manga through Vampire Knight.
B+
Last Updated: August 31, 2023 - 08:12