Vampire Knight: Volume 9
By Leroy Douresseaux
January 31, 2010 - 21:15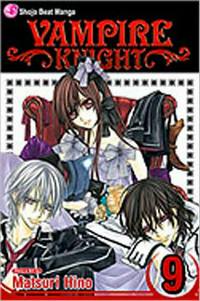 Vampire Knight Volume 9 cover image
Rated "T+" for "Older Teen"
Cross Academy is a private boarding school. There are two classes – the Day Class and the Night Class. The Day Class students return to their dorms at twilight not knowing that the Night Class students on their way to school are vampires. Yuki Cross, the adopted daughter of Headmaster Cross, and Zero Kiryu, a human suffering the curse of the vampire, are Guardians of the school, patrolling the hallways and school grounds to protect the students of the Day Class from the vampires.
Vampire Knight, Vol. 9 opens with Cross Academy in turmoil and bloody chaos. Yuki Cross has finally learned that she is both a vampire and a member of the Kuran family. Her resurrected uncle, Rido Kuran, the man who killed her father, leads his allies in the Vampire Senate against the humans at the school. His true goal, however, remains what it has been since she was born – to drink Yuki's blood and absorb her powers. Her betrothed, Kaname Kuran, and the newly-empowered Zero, may be all that stand between Yuki and doom. Or can she defend herself?
THE LOWDOWN: As much as I enjoy Vampire Knight, I get lost in the elaborate internal mythology, history, and family ties. The sweet stuff is the high school character drama, the rivalries and romance; you know – the shojo stuff. Still, creator Matsuri Hino has a magical way of telling stories via graphics. The comic book medium and format suits her strength with putting powerful storytelling moments in single panels and single illustrations. It's always a joy to read Hino's work.
POSSIBLE AUDIENCE: Readers who enjoy vampire teens and elaborate fictional vampire mythologies will love Vampire Knight.
B+
Last Updated: August 31, 2023 - 08:12