Junji Ito's Uzumaki: Volume 2
By Leroy Douresseaux
Nov 22, 2007 - 11:32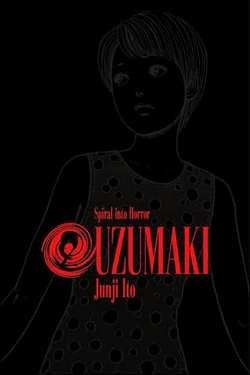 Thanks to barnesandnoble.com for the image.
Uzumaki
,
Junji Ito's
bone-chilling horror manga, is back in print.
Uzumaki takes place in the Japanese coastal village of Kurôzu-cho, which is beset (haunted, cursed) by a particular pattern – that of the spiral (uzumaki). The spiral manifests itself everywhere – on seashells, in the clouds above, and even in the whirlwinds (or dust devils) that plague the village streets. Soon after the arrival of the spiral, many of the citizens of Kurôzu-cho begin to die violent and often shockingly bizarre deaths.
Kirie Goshima, a quiet, reserved teen girl and high school student, has been an astute observer of the peculiar events that strike her hometown after the spirals start to appear. In Uzumaki, Vol. 2 not only is the horror not letting up; it's also actually becoming increasingly more bizarre. First, Kirie finds herself plagued by a practical joker who is obsessed with her, but that's nothing compared to how he is going to haunt her in "Jack-in-the-Box." In the gruesome-twosome, "Mosquitoes" and "The Umbilical Cord," Kirie's hospital stay becomes a lesson in pre and post-natal care when hungry mothers and their infants become very picky eaters. Then, the spiral comes looking for Kirie hurricane-style in "The Storm."
THE LOWDOWN: Junji Ito has acknowledged legendary horror fiction author, H.P. Lovecraft, as an influence on his work. However, the stories in this volume blend both Lovecraft and the influences of a second 20th century master of both paranoia and the weird, the visionary sci-fi author Philip K. Dick (The Man in the High Castle). Like Lovecraft, Ito has chosen to torment his characters with an elemental horror – a pattern that has always appeared innocently in nature, the spiral. Like Dick, Ito also examines how fragile nature is, particularly when what is "real" and ordinary can be warped beyond recognition or even become murderous – for instance, when the spiral turns a woman's thick hairdo into a creepy, striking murder weapon (as in Vol. 1).
POSSIBLE AUDIENCE: Any fan of imaginative and terrifying horror will find satisfaction (and even some discomfort and revulsion) in Uzumaki.
A+
Shop VIZ at the Amazon aStore.
Last Updated: Jun 26, 2018 - 9:28