Comics / Comic Reviews / More Comics
Uptight #4
By Leroy Douresseaux
March 18, 2011 - 13:26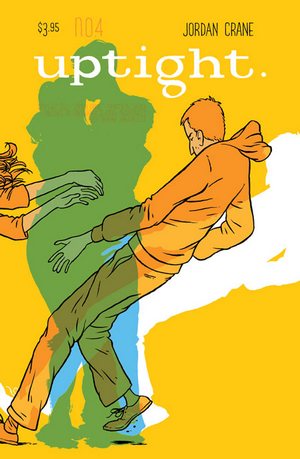 Upright #4 cover image
The comic book series Uptight is a showcase for creator, cartoonist Jordan Crane. With each issue, Crane displays his mastery of both edgy adult drama and imaginative all-ages adventure.
Uptight #4 opens with "Chapter 2: Trash Night," the ongoing saga of Leonard "Leo" and Delores "Dee's" troubled relationship. Upsetting dreams and a suspicious mind have Leo trying to catch Dee cheating, and the situation reaches a boiling point thanks to a raccoon.
Also, the Simon & Jack (from Crane's The Clouds Above) fun continues in "Dark Day." Simon's classmate, Rosalyn Devareaux and Jack (Simon's talking cat) find themselves trapped in the office of Principal Pernicious Codswollop, who has diabolical plans for them. Meanwhile, school custodian, Mr. Cook, enters the bowels of the school to find Simon.
I like that Jordan Crane had decided not to play the victim of infidelity/villainous partner dynamic with the story of Leo and Dee. He has stripped them bare, which forces the reader to make his or her own decisions. Of course, the readers cannot do this through a passive reading experience. Being forced to engage isn't a bad thing, because what we are engaging is a lush graphic narrative told in beautiful greytone art.
Believing that Crane is equally good with character drama and kids' comics may be difficult to accept, but the rollicking Simon & Jack will not only make you a believer, but also an acolyte of Crane. This is an all-ages tale because its sense of wonder and imagination will captivate all ages, and it is not too early to declare Uptight #4 one of the year's best comics.
A
Last Updated: September 6, 2021 - 08:15