Jordan Crane's Uptight #3
By Leroy Douresseaux
March 17, 2011 - 14:24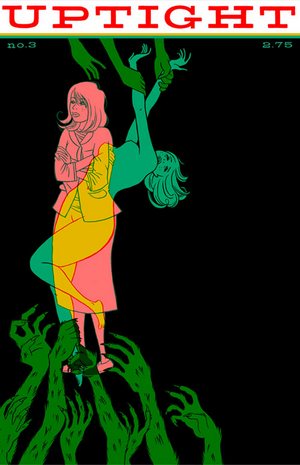 Uptight #3 cover image
In his comic book series, Uptight, cartoonist Jordan Crane offers short stories, something to tide the reader over as he serializes his imaginative, sprawling graphic novel, Keeping Two. In Uptight #3, Crane turns to other things.
First is Chapter One of Crane's new serialized tale of infidelity, "Vicissitude," which focuses on mechanic and night school student, Leonard, also called Leo. Leo's wife, Delores, is cheating on him, and he's not quite ready to have a clue.
The second half of the comic book features the return of the boy Simon and his large talking cat, Jack, the stars of Crane's graphic novel, The Clouds Above. Along with Simon's classmate, Rosalyn, Simon & Jack discover something big, hairy, and hungry in the school lunchroom freezer.
Crane's work is highly, emotionally charged, but in a quiet way. Illustrated in a lush, enveloping, greytone, Vicissitude has a Film-Noir quality that adds an air of mystery to this story of melancholy and rotting love. It is so engaging and enthralling that its ending is jarring. "Freeze Out," the Simon & Jack tale, is fantastic. It's all-ages comic book magic. Reading it made me feel like a kid again, reading stories of adventure, fantasy, and magic for the first time on my own.
If there were any doubts about Crane's prodigious talent, Uptight #3 is the spell to dispel those doubts.
A+

Last Updated: September 6, 2021 - 08:15