Why Ubisoft coming to Toronto is Important, For Ontario
By Eli Green
Jul 7, 2009 - 21:30
For the average gamer, yesterday's announcement from Ubisoft, that it is creating an office in Toronto later this year, was probably not of very much concern, aside from the possibility of more Triple-A titles being produced more frequently. For gamers, artists, coders and pretty much anybody else who has anything to do with the either side of the industry in the GTA (that's Greater Toronto Area for those of you not familiar) and nearby sections of Ontario though, this was a major announcement.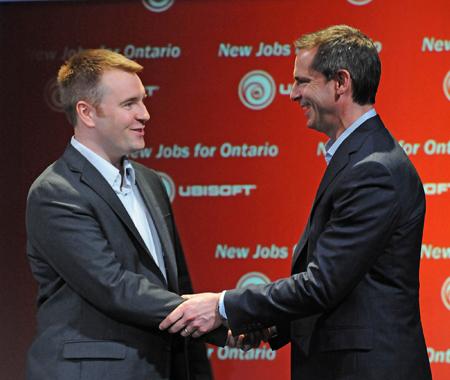 Yannis Mallat, currently CEO of Ubisoft Montreal, and Ontario Premiere Dalton McGuinty doing the photo op thing.
To begin with, as I noted yesterday, Torontonians, or anyone else from the general vicinity, looking for a position with the developing and publishing giant will no longer have to make the aforementioned (again, see yesterday's article) six hour jaunt to Quebec. But that doesn't just mean that those people will no longer have to make a long trek to apply for a position, they also won't have to leave their hometown to work for Ubisoft. That means more talent stays within Ontario, which, naturally, is beneficial for the province as a whole.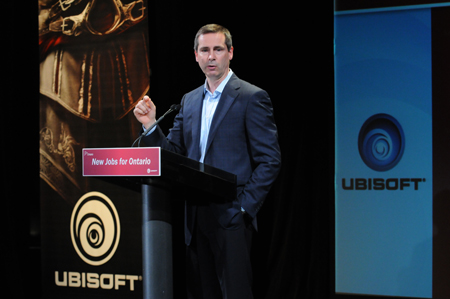 McGuinty speaking at yesterday's press conference. The dais banner says it all.
There is something far more important happening here though, and it is the reason why I initially stated that this move by the government of Ontario, to invest in bringing a larger video game community to Ontario, was so long overdue. A few years ago, about September of 2002 to be exact, Avi Weinryb and I sat in on a presentation from an Ontario Ministry of Culture agency, called the Ontario Media Development Corportation (OMDC), to the Toronto chapter of the International Game Developers Association (IGDA). This presentation was meant to introduce new tax breaks for new and fledgling producers of new media and, what the OMDC calls, "interactive digital media".
From what I recall though, the presentation turned a bit sour close to the end, during the post-presentation question period, when people began asking how, as game developers, they could take advantage of the benefits OMDC was offering. The answer, for the most part, was that they couldn't. The problem was that, for whatever reason, their products didn't "fit the bill" for what the OMDC deemed to be worthy projects. It also appeared to some that the OMDC had essentially overlooked video games completely. Things didn't get out of hand, but people weren't exactly happy with what they heard.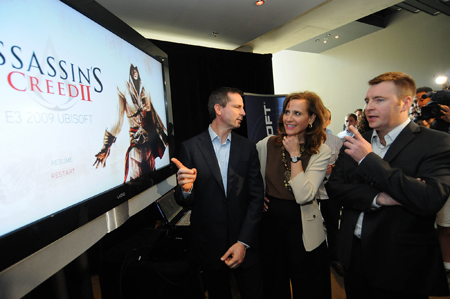 Mallat speaks to McGuinty about Ubisoft's games.
Things appear to have taken a turn for the better now, thanks to this announcement, but an investment of this magnitude, in this industry, from the government of Ontario was long overdue. And while it is likely that Ubisoft's size, and the economy, played a part in bringing this plan together, it could also be a good sign for the future of the video game development community in Ontario overall, even for smaller companies. If the government plays its cards right, the Ontario video game development community should continue to grow and thrive, giving a nice boost to the economy, and local talent will continue to be just that – local.
It's not just important news for Ubisoft, it's important news for Ontario.
Image Gallery:

Last Updated: Dec 19, 2017 - 22:52