Twin Star Exorcists: Volume 9 manga review
By Leroy Douresseaux
July 19, 2017 - 22:31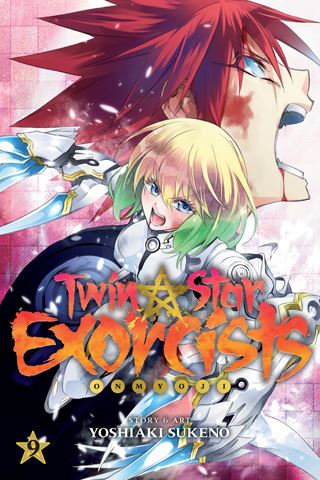 Twin Star Exorcists Volume 9 cover image
Rated "T" for "Teen"

Rokuro Enmado, who did not want to be an exorcist, met a mysterious girl named
Benio Adashino
. This 14-year-old was serious about being an exorcist, and she wanted to fight the monstrous creatures called
Kegare
. Because their destinies are intertwined, Rokuro and Benio are called the "
Twin Star Exorcists
." They are fated to marry... and to conceive the "
Prophesied Child
."
Twin Star Exorcists

, Vol. 9
(Chapters 30 to 33) opens in
Magano
, the underworld where the Kegare live.
Shimon Ikaruga
(one of the Twelve Guardians) followed Rokuro and Benio on a rescue mission to this evil realm in order to save his sister,
Sayo
. Their adversaries were two
Basara
(Kegare that can speak like and resemble humans),
Hijirimaru
and Higano. The latter sacrificed himself so that the former could absorb his power. Now, can even the combined might of the Twin Star Exorcists stop the even more powerful Hijirimaru?
Then, the spiritual protector of one of the twins disappears leaving that young exorcist powerless. The other heads to
Tsuchimikado Island
to fight on the front lines of the war against the Kegare. What will the one left behind do?
THE LOWDOWN:
There are times when the Twin Star Exorcists manga seems to be in a constant state of flux. The narrative introduces new characters and new subplots at a steady rate, but the characters grew and evolved.
Twin Star Exorcists Volume 9
is no different. However, series creator
Yoshiaki Sukeno
does not offer change for change's sake. This manga is an epic battle manga, telling a tale of an evolving war and the evolving relationships of those who fight that war. Twin Star Exorcists continues to be a manga worth reading, and I recommend it to you, dear readers.
I READS YOU RECOMMENDS:
Fans of action-fantasy, shonen manga will want to try the "Shonen Jump" manga, Twin Star Exorcists.
A
9 out of 10
Rating: 9 /10
Last Updated: May 19, 2020 - 12:25