Twin Star Exorcists: Volume 8 manga review
By Leroy Douresseaux
May 2, 2017 - 22:36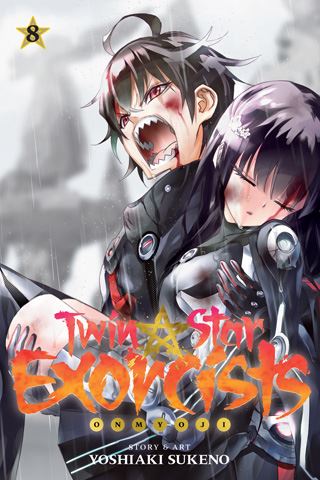 Twin Star Exorcists Volume 8 cover image
Rated "T" for "Teen"
Rokuro Enmado
, who does not want to be an exorcist, meets a mysterious girl named
Benio Adashino
. This 14-year-old is serious about being an exorcist, and she wants to fight the monstrous creatures called
Kegare
. Because their destinies are intertwined, Rokuro and Benio are called the "
Twin Star Exorcists
." They are fated to marry... and to conceive the "
Prophesied Child
."
Twin Star Exorcists

, Vol. 8
(Chapters 26 to 29) opens in
Magano
, the underworld where the Kegare live.
Shimon Ikaruga
(one of the Twelve Guardians) has joined Rokuro and Benio on a rescue mission to this evil realm in order to save his sister,
Sayo
. Their adversaries are two Basara (Kegare that can speak like and resemble humans),
Hijirimaru
and
Higano
.
However, Basara are exceedingly powerful and skilled. It will take everything they have and more – especially with Benio knocked out of the fight.
Mayura Otomi
, a not particularly talented exorcist, joins the fight and to save her friends, she will have to discover a new source of power within herself. Plus, a dark truth about Benio's spiritual guardian is revealed.
THE LOWDOWN:
The
Twin Star Exorcists
manga once had a narrative that seemed to be in a constant state of flux. The introductions of new characters and subplots seemed constant, but the characters grew and evolved.
Twin Star Exorcists Volume 8
is about character evolution, but in the four chapters contained in this graphic novel, the series shows its battle manga chops. Creator
Yoshiaki Sukeno
offers explosive fights and spectacular effects. I might have missed the character drama and behind-the-scenes intrigue in which this narrative usually dabbles. However, the awesome battles were indeed awesome, and the final page of this graphic novel teases more good stuff to come.
I READS YOU RECOMMENDS:
Fans of action-fantasy, shonen manga will want to try the "Shonen Jump" manga,
Twin Star Exorcists
.
A
Rating: A /10
Last Updated: May 19, 2020 - 12:25