Twin Star Exorcists: Volume 7 manga review
By Leroy Douresseaux
March 3, 2017 - 23:13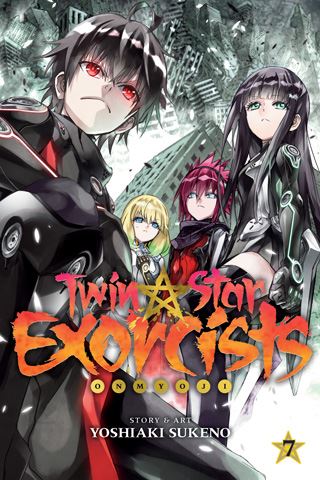 Twin Star Exorcists Volume 7 cover image
Rated "T" for "Teen"
Rokuro Enmado
does not want to be an exorcist, when he meets a mysterious girl named
Benio Adashino
. The 14-year-old is serious about being an exorcist, and she wants to fight the monstrous creatures called Kegare. Because their destinies are intertwined, Rokuro and Benio are called the "
Twin Star Exorcists
." And they are fated to marry... and to conceive the "
Prophesied Child
."
Twin Star Exorcists

, Vol. 7
(Chapters 22 to 25, entitled
Exorcisms
) opens with the fiery end of Rokuro's "
ascertainment ritual
," and the revelation of his spiritual protector shocks everyone. Now, the youngest member of the Twelve Guardians,
Shimon Ikarusa
, who arrived to test Rokuro and Benio, is in grave danger on the eve of overseeing Benio's ascertainment ritual. Plus, here comes the
Basara
.
THE LOWDOWN:
The
Twin Star Exorcists
manga once had a narrative that seemed to be in a constant state of flux. The introductions of new characters and subplots seem constant.
Twin Star Exorcists Volume 7
focuses on a few characters and on the inevitable goal of bringing Rokuro and Benio together to produce an important child. Creator
Yoshiaki Sukeno
offers a busy narrative, which is often quite engaging and invigorating, but readers seem to like the long, involved serials.
Twin Star Exorcists
offers that and some nice battle manga. I still think, however, the idea of young characters fated to produce a child... against their better judgment... to be too fun to pass up.
I READS YOU RECOMMENDS:
Fans of action-fantasy, shonen manga will want to try the "Shonen Jump" manga,
Twin Star Exorcists
.
A
Rating: A /10
Last Updated: May 19, 2020 - 12:25