Twin Star Exorcists: Volume 6 manga reivew
By Leroy Douresseaux
October 9, 2016 - 22:54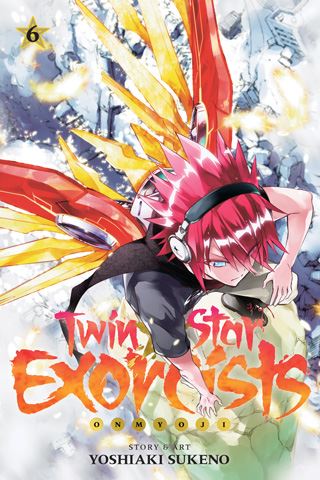 Twin Star Exorcists Volume 6
Rated "T" for "Teen"
Rokuro Enmado
does not want to be an exorcist, but he meets a mysterious girl named
Benio Adashino
. The 14-year-old is serious about being an exorcist, and she wants to fight the monstrous creatures called
Kegare
. Because their destinies are intertwined, Rokuro and Benio are called the "
Twin Star Exorcists
." And they are fated to marry... and to conceive the "Prophesied Child."
Twin Star Exorcists

, Vol. 6
(Chapters 19 to 21) opens with
Ryogo Nagitsuji
joining Rokuro and Benio to help a place of business get rid of a Kegare infestation. Benio and Rokuro have trained for two arduous yeas to earn permission to journey to
Tsuchimikado Island
to fight at the epicenter of the Kegare invasion. Now, the youngest member of the
Twelve Guardians
,
Shimon Ikarusa
, has arrived to test Rokuro and Benio, but will an examiner's crush on one of them ruin everything?
[This volume includes the bonus stories, "The Many Faces of Mayura," "Poached Rokuro," and "Suzaku's Ceremony of the Twelve Guardians."]

THE LOWDOWN:
The
Twin Star Exorcists
manga has a narrative that seems to be in a constant state of flux. It is similar to other "Shonen Jump" and "Shonen Jump Advanced" manga that involve young males trying to become THE hero. However, this one has powerful young females in the mix.
Twin Star Exorcists Volume 6
is a case in point. Creator
Yoshiaki Sukeno
is sly in revealing who does what. The leads are little now older. Their expectations clash with reality. Now, the reality of who they are, even at a spiritual level, is not what they think. Yes,
Twin Star Exorcists
is similar to other shonen action fantasy series, but it changes enough to be different, even from what it was earlier. I think such a series is worth a look.
POSSIBLE AUDIENCE:
Fans of action-fantasy, shonen manga will want to try the "Shonen Jump" manga,
Twin Star Exorcists
.
A
Last Updated: May 19, 2020 - 12:25