Twin Star Exorcists: Volume 5 manga reivew
By Leroy Douresseaux
August 2, 2016 - 20:45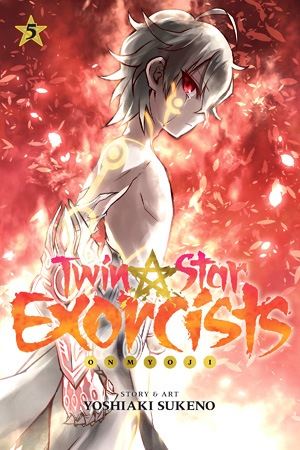 Twin Star Exorcists Volume 5 cover image
Rated "T" for "Teen"
Rokuro Enmado
wants to be anything but an exorcist, but he meets a mysterious girl named
Benio Adashino
. The 14-year-old is serious about being an exorcist and fighting the monstrous creatures called
Kegare
. Because their destinies are intertwined, Rokuro and Benio are called the "
Twin Star Exorcists
." And they are fated to marry...
Twin Star Exorcists

, Vol. 5
(Chapters 15 to 18) opens in the aftermath of Rokuro and Benio's nearly-disastrous battle with Benio's evil twin brother, Yuto Ijika. Afterwards, Rokuro and Benio must face their fated destiny to marry and to give birth to the "
Prophesied Child
." More of Rokuro's history is revealed, but he remembers none of it, including his prior relationship with Yuto.
THE LOWDOWN:
I have not read the
Twin Star Exorcists
manga since the second volume. My VIZ Media rep sent me a copy of Vol. 5, and I was surprised to find that with the synopsis, it was quite easy to follow.
Twin Star Exorcists Volume 5
, like the entire series, shares elements with such manga as
Blue Exorcist
,
Claymore
, and
Seraph of the End: Vampire Reign
. The series grows stronger as Rokuro and Benio grow closer, and Vol. 5 includes a wonderful story about a kind of "first date."
Twin Star Exorcists
, like its protagonists, is just hitting its stride, and I think this series will enthrall readers to the end. It is still early, and, dear reader, you really don't need to go back to the beginning to enjoy this series.
POSSIBLE AUDIENCE:
Fans of action-fantasy, shonen manga will want to try
Twin Star Exorcists
.
A
Rating: A /10
Last Updated: May 19, 2020 - 12:25