Twin Star Exorcists: Volume 1 manga review

By Leroy Douresseaux
July 6, 2015 - 19:12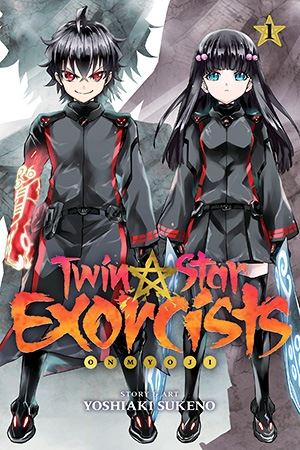 Twin Star Exorcists Volume 1 cover image
Rated "T" for "Teen"
Twin Star Exorcists
is a new supernatural action manga series from creator
Yoshiaki Sukeno
. VIZ Media is publishing the series in English under its "Shonen Jump" imprint. The series is currently ongoing in Japan, and VIZ will release
Twin Star Exorcists
English-language graphic novels twice a year, both in print and in digital editions.
The series focuses on a pair of mystical warriors with intertwined destinies.
Rokuro Enmado
wants to be anything but an exorcist. Then, he meets a mysterious girl named
Benio Adashino
, a 14-year-old who is serious about being an exorcist.
Twin Star Exorcists

, Vol. 1
(Entitled
Exorcisms
; Chapters 1 to 3) opens with an exorcism. We learn that an evil realm known as "
Magano
," is a place where monsters called "
Kegare
" dwell. The Kegare come to this world to kill and to kidnap humans, so exorcists must purify them.
Talented exorcist, Rokuro, is currently trying to be a teen idol, a pursuit destined to end in failure. However, a trauma that Rokuro experienced in the recent past has turned him against being an exorcist. Then, Benio falls out of the sky...
[This volume contains the bonus story "Benio in Kyoto" and also some "Extra Manga."]
THE LOWDOWN:
The
Twin Star Exorcists
manga is like most action-fantasy manga published under the "Shonen Jump" and "Shonen Jump Advanced" imprints. It is filled with a complex back story and an internal mythology riddled with terminology, techniques, processes, etc., that is all built around the supernatural. But it is a good read.
Twin Star Exorcists Volume 1
is hugely engaging. I think readers will be drawn into its world. The monsters are awesome and scary, and the stakes for the heroes are high and definitely involve life and death. Rokuro and Benio's predicament is funny, and is along the lines of that found in the manga,
Nisekoi: False Love
. Like Nisekoi,
Twin Star Exorcists
is funny and edgy, and sometimes the comedy is quite edgy.
Right now, I find the supporting characters to be soft and not well-developed. Of course, I'm a sucker for the battles, fights, and explosive magic, so I think
Twin Star Exorcists
has potential.
POSSIBLE AUDIENCE:
Fans of action-fantasy, shonen manga will want to try
Twin Star Exorcists
.
Rating: B+ /10
Last Updated: August 31, 2023 - 08:12