Comics / Manga / Yaoi Manga
Yukari Hashida's Tricky Prince (Yaoi)
By Leroy Douresseaux
Jan 30, 2009 - 4:37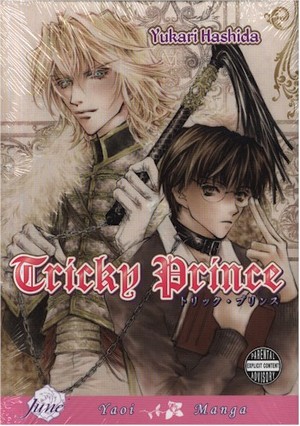 Tricky Prince cover image is courtesy of Anime Castle Books.
Rated "M" for "Mature Audiences 18+"
Eugene Ratcliff is a brilliant young student, dedicated to his school books, day and night. Eugene Ratcliff is also an impoverished scholarship student who has no choice but to keep his grades high or he'll get expelled.
Prince Willis is the most attractive and most sought-after guy in school. He can have any young woman as his lover and any young man as his friend (or maybe even lover), so why is Prince Willis so attracted to Eugene, a scrawny, persnickety nerd who considers anything other than school work to be frivolous, a tiresome and unwanted distraction? From the pages of the tabloids to the halls of the palace, from the dark recesses of the school to Eugene's simple home, Prince Willis fights conspiracy, a rival, incestuous love, and a corrupt professor because he treasures his relationship with Eugene. It's a relationship Eugene rejects – as he rejects Willis' riches, but can even Eugene keep resisting Willis' insistence?
THE LOWDOWN: Tricky Prince, a yaoi manga from creator Yukari Hashida (Kabuki, Vol. 1-Flower), is entertaining not because of the romance, but because Eugene and Prince Willis make such a winning comic pair. Tricky Prince has neither the romantic heat nor sexual passion that defines yaoi manga. On the other hand, this collection does have the fussy Eugene, who comes across like an anal office manager, and the shameless Prince Willis, who comes across as a playfully perverted Bill Murray (Ghost Busters, Groundhog Day), complete with dry wit.
Eugene may be a foil to Willis' lust, and Willis may be a foil to Eugene's fastidious nature and single-mindedness, but they're both foils to anyone who wants to come between them or do harm to them. And they foil Tricky Prince's desire to be a collection of pedestrian Boys' Love stories.
POSSIBLE AUDIENCE: Readers who like yaoi comedy will find the amusing mismatched pair in Tricky Prince worth getting to know.
B
www.digitalmanga.com
www.emanga.com
Shop for Yaoi Delights.

Last Updated: Jun 26, 2018 - 9:28