Comics / Manga / Yaoi Manga
Total Surrender (Yaoi)
By Leroy Douresseaux
Nov 5, 2008 - 19:52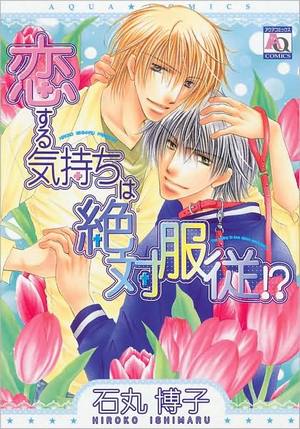 The cover illustration of the above image remains for June Manga's English editon, but they Japanese cover copy has been replaced.
Rated "M" for "Mature Audiences 18+"
Total Surrender, a boys' love/yaoi manga title from Hiroko Ishimaru, focuses on love-struck admirers who can only desire from afar those friends and co-workers with whom they want to have passionate love relationships.
In the two-part "Love Conquers All?!," Yuya is an incompetent temp worker at a busy design office. Yuya is deeply in love with his boss, Yoshihiro Chihara, but Yuya's continual failure at completing assignments only seems to further anger Chihara and to widen the divide between them. When Yuya discovers that Chihara likes dogs, he gets one of his own, but will his stalking and dog-napping actually stand in the way of love.
Five other tales of yearning complete Total Surrender. Here, are the highlights. In "Just You and Me," older step-brother, Kimikazu, moves away when younger step-brother, Akito, expresses his romantic love for Kimikazu. Can Kimikazu, however, put out the flames of passion his brother's words ignited in him by running away? A male nurse harbors a secret love for the frosty, accomplished doctor whom he assists, so can he really be happy with just a professional relationship in "Perfect Partners?" A wealthy young CEO is deeply in love with his longtime family servant, a person upon whom he really relies, but the servant only seems content to serve in "The Secret Manta of Love."
In Total Surrender, creator Hiroko Ishimaru has produced stories of secret crushes, secret admirers, and unrequited love that are genuine and honest. In the words Ishimaru uses to give voice to the characters thoughts and feelings and the emotive facial expressions she uses to articulate want and desire, Ishimaru takes us to the heart of companionship and friendship that actually begs to become something more – romantic love. Total Surrender is a great read and a yaoi anthology for the incurable romantic.
A-
Last Updated: Jun 26, 2018 - 9:28