Toriko: Volume 30 manga review
By Leroy Douresseaux
Oct 21, 2015 - 22:28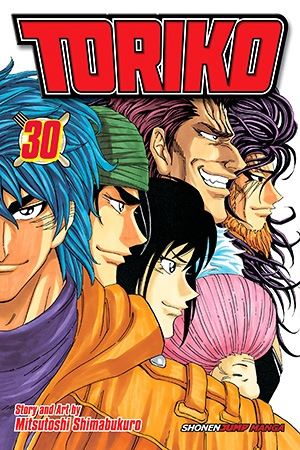 Toriko Volume 30 cover image
Rated "T" for "Teen"
On a savage, alternate version of Earth, the pursuit of the most delicious foods rules over everything else. It is eat or be eaten, and practically everything and everyone is on the menu.
Ultimate Gourmet Hunter Toriko
is on a life-long quest to create the perfect full-course meal. With young
IGO
chef,
Komatsu
, at his side, Toriko has an Ultimate Hunter-Chef partnership, as he faces every beast in his way, putting some in his bottomless stomach. Oh, and the "Age of Gourmet" is over.
A rain of "meteor spice" destroyed much of the Human World, and people struggle to find new food sources. As
Toriko

, Vol. 30
(entitled
Onward to the Gourmet World!!
Chapters 264 to 272) opens, Toriko brings food to the human world. Now, he and the other
Four Kings
must find the "
Full-Course Meal
" of their boss, the deceased head of IGO,
Ichiryu
(head of IGO). That would be the "
Billion Bird
", which would provide enough food to feed the world – if they can find it and make it edible.
Then, the Four Kings: Toriko,
Sunny
,
Coco
, and
Zebra
, with Komatsu tagging along, prepare to enter the impossible Gourmet World. First, however, they must meet an old friend of Ichiryu's who has lots to say... and also has lots of demands.
THE LOWDOWN:
The
Toriko
manga enters a new story arc, the "Gourmet World Arc." It is now clear that this series has increasingly bigger ambitions. This shonen battle manga is also as imaginative as ever.
Toriko Volume 30
marks the occasion of a new story arc with a poignant tale about a boy who just wants to feed his ailing mother some real food instead of meal replacement pills, while being stalked by bad men. A woman in love with Toriko makes her big move. A bird is brought to life in the wackiest way. Oh, and there is an "
Octomelon
." Creator
Mitsutoshi Shimabukuro
never stops, and with suggestions from his readers, his cyptid menagerie just keeps growing, as the reasons to read
Toriko
multiple.
POSSIBLE AUDIENCE:
Readers looking for the best in shonen adventure and in monster-fight comics will want a big taste of the Shonen Jump manga,
Toriko
.
Rating: A /10
Support this writer on Patreon
Last Updated: Jun 26, 2018 - 9:28