Toriko: Volume 29 manga review
By Leroy Douresseaux
Aug 17, 2015 - 11:55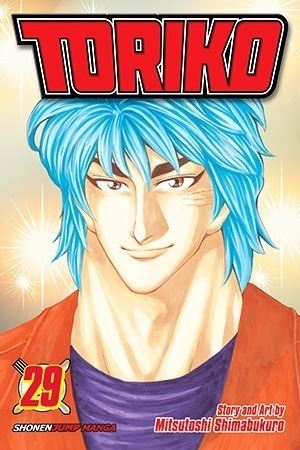 Toriko Volume 29 cover image
Rated "T" for "Teen"
On a savage, alternate version of Earth, it is the "Age of Gourmet." The pursuit of the most delicious foods rules over everything else. It is eat or be eaten, and practically everything and everyone is on the menu.
Ultimate Gourmet Hunter Toriko
is on a life-long quest to create the perfect full-course meal. With young
IGO
chef,
Komatsu
, at his side, Toriko has an Ultimate Hunter-Chef partnership, as he faces every beast in his way, putting some in his bottomless stomach.
As
Toriko

, Vol. 29
(entitled
World's Greatest Gourmet Hunter!!
Chapters 254 to 263) opens,
Ichiryu
(head of IGO) and
Midora
(head of its rival, the
Gourmet Corp.
) engage in a battle for the ages. Ichiryu's pits his "
Minority World
" against Midora's "Hungry Space." Is this their "final battle?" Is this some kind of final battle?
"
Meteor Spice
" will answer one of those questions. Plus, Komatsu finds new purpose... with Gourmet Gorp.!
THE LOWDOWN:
The
Toriko
manga has bigger ambitions. Perhaps, it is indeed a shonen battle manga, but it will not be just another battle manga. One can read creator
Mitsutoshi Shimabukuro
's afterword to this current volume and come to believe that is so, and "Shimabu" may also believe as much.
Toriko Volume 29
marks the end of the series first story arc. Say what?! A 29-volume story arc?! I'm impressed and in awe. Where can this series go from here? Well, as long as Shimabu's imagination remains intact and as long as his readers stay interested enough to be inventive in creating weird creatures and food for inclusion in the series,
Toriko
will go far. Where, I don't know. I do know that this battle manga is one of the best monster comics that I have ever read, and I want to keep reading.
POSSIBLE AUDIENCE:
Readers looking for the best in shonen adventure and in monster-fight comics will want a big taste of the Shonen Jump manga,
Toriko
.
Support this writer on Patreon
Last Updated: Jun 26, 2018 - 9:28