Toriko: Volume 26 manga review
By Leroy Douresseaux
February 19, 2015 - 21:50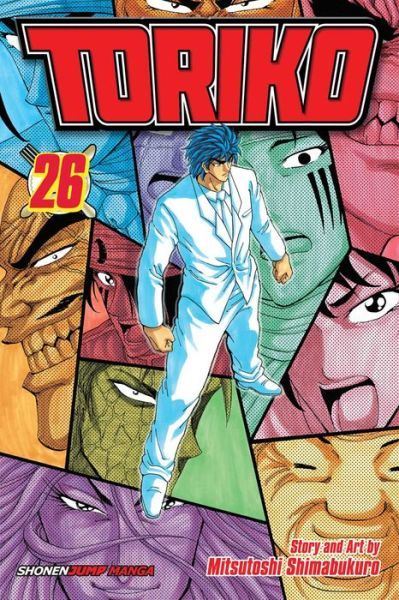 Toriko Volume 26 cover image is courtesy of barnesandnoble.com.
Follow me on
Twitter
.
Rated "T" for "Teen"
This is the "Age of the Gourmet." On a savage, alternate version of Earth, the pursuit of the most delicious foods rules over everything else. It is eat or be eaten; practically everything and everyone is on the menu.
Ultimate Gourmet Hunter Toriko
is on a life-long quest to create the perfect full-course meal. With young
IGO
chef,
Komatsu
, at his side, Toriko has an Ultimate Hunter-Chef partnership, as he faces every beast in his way, putting some in his bottomless stomach.
Komatsu is #88 in the World Chef Ranking, and that earns him a spot in the "
Cooking Festival
," which is only held once every four years. Over ninety percent of this Earth's 31.2 billion population watches this event, and over 100 million flock to Cooking Island, the site of the Cooking Festival. Then, battle breaks out at the festival...
As
Toriko

, Vol. 26
(entitled
Beyond the Limit!!
Chapters 226 to 234) opens, the fiercest chefs of IGO face the most monstrous and powerful chefs of IGO's rival, the Gourmet Corp. IGO's
Sunny
battles bug-infested
Tommyrod
. The lightning-infused Brunch takes on Gourmet Corp.'s Branch #1 Culinary Head,
Elg
, who is seemingly immortal. Finally, Toriko rumbles with his longtime rival,
Starjun
.
Meanwhile,
NEO
shows itself. Who is NEO? While two dogs fight over a bone, a third runs away with it.
THE LOWDOWN:
It has been a few months since I last read the
Toriko
manga. I return to find that it is still doing what it does best.
Toriko Volume 26
is a full-on battle manga. The fights are so monstrous, it is as if Toriko creator
Mitsutoshi Shimabukuro
is the late Marvel Comics great, Jack Kirby, returned as a battle manga king.
The imagination and inventiveness of Shimabukuro, however, is what makes Toriko so rewarding a read.
Toriko
is full of shonen fantasy adventure and fight comics tropes, but everything is done in a way that is different and unique, almost to the point of being combative. In
Toriko
, readers come to love this spirited imagination.
POSSIBLE AUDIENCE:
Readers looking for the best in shonen battle and adventure manga will want to feast on the Shonen Jump manga,
Toriko
.
Last Updated: August 31, 2023 - 08:12