Toriko: Volume 20 manga review
By Leroy Douresseaux
February 20, 2014 - 16:53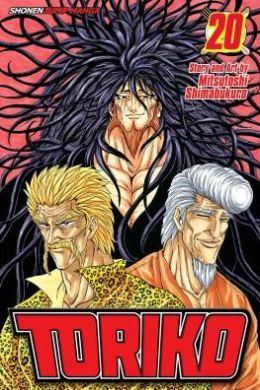 Toriko Volume 20 cover image is courtesy of barnesandnoble.com.
Rated "T" for "Teen"
On a savage, alternate version of Earth, people pursue the most delicious foods in the world. On this dog-eat-dog world, it is eat or be eaten, as practically everything and everyone is on the menu. Ultimate Gourmet Hunter Toriko is on a life-long quest to create the perfect full-course meal. With young IGO chef Komatsu at his side, Toriko has an Ultimate Hunter-Chef partnership, as he faces every beast in his way, putting some in his bottomless stomach.
As Toriko, Vol. 20 (entitled Ichiryu and Midora!! Chapters 172 to 180) opens, IGO President Ichiryu travels to the Gourmet World to meet his rival, Midora, the boss of Gourmet Corp. Both men are disciples of Acacia and both want to find the miraculous food known as "God." Can they come together?
Meanwhile, Toriko and some of the Four Kings play "Gourmet Santa." Next, Toriko begins his quest to find ingredients for the "fortune roll." That starts with the hunt for the elusive "Madam Fish," but he isn't the only one looking for this fish.
THE LOWDOWN: The Toriko manga, as always, is both highly-imaginative and hugely entertaining. Nearly every volume is an epic of bizarre foods, weird people, outlandish locales, etc. Many comic books could run for at least two years on what creator Mitsutoshi Shimabukuro puts in enough chapters to make one graphic novel. Toriko Volume 20, as usual, will make you hungry and tackle your imagination.
POSSIBLE AUDIENCE: Readers looking for something crazy and enjoyable to eat… I mean read will find that in the Shonen Jump manga, Toriko.
Rating: A /10
Last Updated: January 24, 2022 - 11:00