Toriko: Volume 19 manga review
By Leroy Douresseaux
December 2, 2013 - 17:27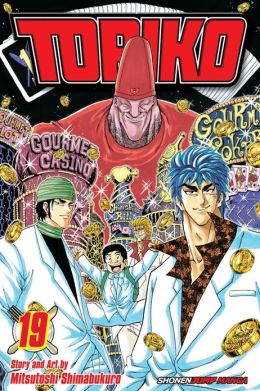 Toriko Volume 19 cover image is courtesy of barnesandnoble.com.
Rated "T" for "Teen"
There is a savage, alternate version of Earth, where people pursue the most delicious foods in the world. It is a dog-eat-dog world where it is eat or be eaten, as practically everything and everyone is on the menu. Ultimate Gourmet Hunter Toriko is on a life-long quest to create the perfect full-course meal. With young IGO chef Komatsu at his side, Toriko has an Ultimate Hunter-Chef partnership, as he faces every beast in his way, putting some in his bottomless stomach.
As Toriko, Vol. 19 (entitled Gourmet Tasting!! Chapters 163 to 171) opens, Livebearer, the owner of the Gourmet Casino, invites Toriko, Komatsu, Coco, and Match to go beyond the VIP area. This gruesome chef is also boss of the Underground Cooking World. Toriko and company want to obtain information on finding the rare food known as Meteor Garlic. Livebearer knows where they can get it.
But to obtain that information, Toriko and his companions will have to play a game of "Memory," but it is the gourmet version of this card game. Win and they get the location of Meteor Garlic; lose and Livebearer gets to dine on their memories.
THE LOWDOWN: The Toriko manga continues its run of chapters that are both highly-imaginative and hugely entertaining. Toriko Volume 19 shows that creator Mitsutoshi Shimabukuro is a font of weird ideas, and often, he manages to make great comics out of the craziness his imagination can generate. That is not always true of this series, but beginning with Vol. 18, it looks as if Toriko fans are in for a run of fun.
POSSIBLE AUDIENCE: Readers looking for something crazy and enjoyable to read will find that in the Shonen Jump manga, Toriko.
Rating: A /10
Last Updated: January 24, 2022 - 11:00