Toriko: Volume 15 manga review
By Leroy Douresseaux
March 31, 2013 - 16:24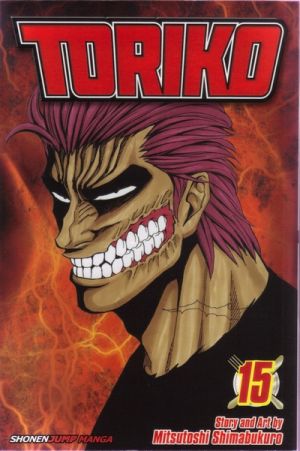 Toriko Volume 15 cover image
Rated "T" for "Teen"
There is a savage, alternate version of Earth where people pursue the most delicious foods in the world. It is eat or be eaten, because practically everything and everyone is on the menu. The ultimate Gourmet Hunter, Toriko, is on a life-long quest to create the ultimate full-course meal. With his pal, a young chef named Komatsu, at his side, Toriko travels the world facing every beast in his way and putting many of them in his bottomless stomach.
As Toriko, Vol. 15 (entitled Zebra!! Chapters 125 to 134) begins, Toriko shares a gourmet meal with two of the Four Kings, Sunny and Coco, and, of course, Komatsu aboard the horse-drawn Gourmet Carriage. Toriko and Komatsu are scheduled to disembark at Honey Prison, the world's largest gourmet prison, and Toriko wants Sunny and Coco to accompany him.
Their answer is a flat, "No!" Why? Toriko is about to retrieve Zebra, the ravenous monster of the Four Kings. They need his help finding the Gourmet Pyramid where Mellow Cola, perhaps the greatest cola in the world, awaits. Now, Toriko and Komatsu have to keep Zebra from doing what got him in prison – killing and eating too much.
THE LOWDOWN: Once again, I would like to simply write the word, "ditto," and use that lone word as my review of the fifteenth volume of the Toriko manga. Like Eiichiro Oda of One Piece, creator Mitsutoshi Shimabukuro unleashes an imagination on steroids creating people, places, creatures, and things that defy lesser imaginations.
Neither The Mummy franchise that began in 1999 nor Prince of Persia: The Sands of Time had the kind of mind-bending fun in the sun and sand that this volume of Toriko has. Toriko may be the most unbelievable foodie publication on the planet.
POSSIBLE AUDIENCE: Readers looking for something crazy and fun will find that in the Shonen Jump manga, Toriko.
Rating: A- /10
Last Updated: August 31, 2023 - 08:12