Toriko: Volume 13 manga review
By Leroy Douresseaux
December 10, 2012 - 17:06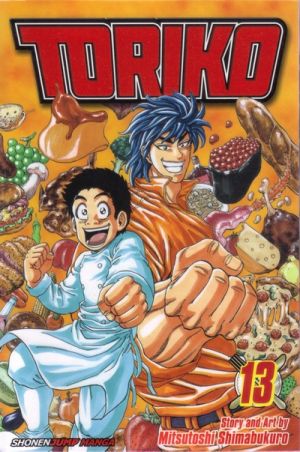 Toriko Volume 13 cover image is courtesy of barnesandnoble.com.
Rated "T" for "Teen"
The shonen manga, Toriko, is set on a savage, alternate version of Earth. There, the people pursue the most delicious foods in the world, but it is also eat or be eaten, because practically everything and everyone is on the menu. The ultimate Gourmet Hunter, Toriko, is on a life-long quest to create the ultimate full-course meal. With his pal, a young chef named Komatsu, at his side, Toriko travels the world facing every beast in his way and putting many of them in his bottomless stomach.
As Toriko, Vol. 13 (entitled Deadly Gourmet World!!) begins, Toriko and Komatsu's journey to the stratosphere has paid off. They've found it; that succulent delight, Ozone Grass, is in their grasps. So why is it wilting in their grasps?
Next, Toriko makes an important decision about his relationship with Komatsu. However, Ozone Grass imbued Toriko's cells with incredible new energy, and he's ready to test that. He takes a reckless plunge into Gourmet World, but is he ready to face monsters that are really out of his league? No.
THE LOWDOWN: Can I just write "ditto" for my review of the thirteenth volume of the Toriko manga? From the first time I read this shonen manga (comics for teen boys), I thought I'd grow bored with it, in spite of creator Mitsutoshi Shimabukuro's imagination and the protean landscape that is this series' narrative. I'm still not bored, but I'm usually pleasantly surprised by something I see here.
With all the monsters and fantastical creatures it has, this is an excellent comic book for young readers. Other comic books that pretend to be for new young readers could learn something from this series and its creator.
POSSIBLE AUDIENCE: Readers looking for something crazy and fun will find it in the Shonen Jump manga, Toriko.
Rating: A- /10
Last Updated: August 31, 2023 - 08:12