Toriko: Volume 12 manga review
By Leroy Douresseaux
October 3, 2012 - 15:52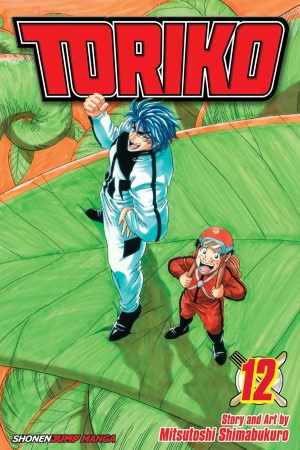 Toriko Volume 12 cover image is courtesy of barnesandnoble.com.
Rated "T" for "Teen"
On a savage, alternate version of Earth, people pursue the most delicious foods in the world, and sometimes it is either eat or be eaten, because practically everything and everyone is on the menu. The ultimate Gourmet Hunter, Toriko, is on a life-long quest to create the ultimate full-course meal. With his pal, a young chef named Komatsu, at his side, Toriko travels the world facing every beast in his way and putting many of them in his bottomless stomach.
As Toriko, Vol. 12 (entitled Vegetable Sky!!) begins, Komatsu finally recreates the Century Soup. How does he do it? You'll never believe what the missing ingredient is. Meanwhile, Toriko returns home to find his house missing, but since it was made of candy, maybe someone ate it. Toriko calls on Smile, the first class gourmet architect to make him another massive edifice of candy.
After the home front is secured, Toriko heads to an island retreat to me the IGO President, Ichiryu. Ichiryu personally issues a dangerous training mission to Toriko. Our hero must travel up to a place in the clouds tens of thousands of meters above the surface, by foot. There, Toriko will find a succulent grass that only grows in the stratosphere.
THE LOWDOWN: Just as the 11th volume of the Toriko manga pleased me more than the 10th did, the 12th exceeded the previous volume. What can I say? I still marvel at creator Mitsutoshi Shimabukuro's imagination. The candy house-building arc is fun, and all that talk of candy and sweets made me hungry, but not as hungry as the Gourmet Towers sequence made me. Like Michael Strahan says, "Mo' meat!"
The journey to the stratosphere is an adventure that rivals anything else being created in comics for juvenile readers in terms of imagination and action. Actually, there's not much else in children's comics that can match Toriko, especially in North America.
POSSIBLE AUDIENCE: Readers looking for something crazy and fun will find it in Toriko.
Rating: A- /10
Last Updated: August 31, 2023 - 08:12