Toriko: Volume 11 manga review
By Leroy Douresseaux
August 17, 2012 - 16:32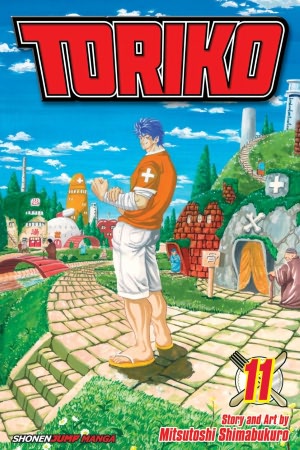 Toriko Volume 11 cover image is courtesy of barnesandnoble.com.
Rated "T" for "Teen"
On a savage, alternate version of Earth, the pursuit of the most delicious foods in the world is most important. It is either eat or be eaten, so practically everything and everyone is on the menu. With his pal, a young chef named Komatsu, at his side, the ultimate Gourmet Hunter, Toriko, travels the world facing every beast in his way and putting many of them in his bottomless stomach.
As Toriko, Vol. 11 (entitled Race to Recovery!!) begins, the battle for the Century Soup, which is hidden somewhere in Ice Hell, comes to a shocking end. Teppei the Reviver arrives and takes on Tommyrod, a man whose body is an insect weapon of mass destruction. Teppei also finds Toriko near death and missing his left arm. Only one man can save Toriko's arm, the reviver Yosaku. To meet this man, Toriko and company must travel to Life, the country of healing. Meanwhile, Komatsu, who tasted the Century Soup, tries to recreate it.
THE LOWDOWN: The eleventh volume of the Toriko manga pleased me more than the tenth did. I not only marvel at creator Mitsutoshi Shimabukuro's imagination, but I also envy it. I don't think there is anyone writing or drawing comics for either DC Comics or Marvel Comics whose imagination and inventiveness has the breath and scope of Shimabukuro's. Toriko is like the comics of Jack Kirby on steroids and turned into a freak show. Every comic book reader should experience Toriko at least once.
POSSIBLE AUDIENCE: Readers looking for something crazy and fun will find it in Toriko.
Rating: A- /10
Last Updated: February 5, 2023 - 09:06