Toriko: Volume 9
By Leroy Douresseaux
March 22, 2012 - 10:02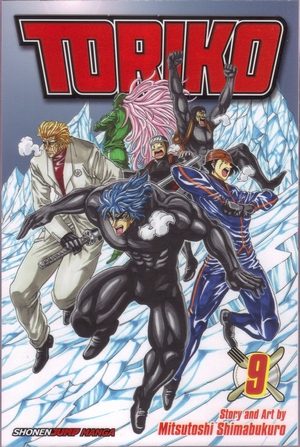 Toriko Volume 9 cover image
Rated "T" for "Teen"
On this savage, alternate version of Earth, the pursuit of the most delicious foods in the world rules. It is either eat or be eaten, so practically everything and everyone is on the menu. With his pal, a young chef named Komatsu, at his side, the ultimate Gourmet Hunter, Toriko, travels the world facing every beast in his way and putting many of them in his bottomless stomach.
As Toriko, Vol. 9 (entitled Battle Below Freezing!!) begins, Toriko continues to lead an expedition across the frozen continent known as Ice Hell. The goal is the Century Soup, the bizarre, but super-delicious brew that only bubbles to the surface once every hundred years. It's hidden somewhere in Ice Hell. Toriko, Komatsu, and their companions, Takimaru the Gourmet Knight and Gourmet Mafia lieutenant, Match, aren't the only ones after the super-soup.
Rival Gourmet Corp. has sent three heavy hitters: the rocky, behemoth and muscle-man, Barry Gamon; the creepy, lecherous Bogie Woods; and that repository of monstrous insects, Tommyrod to get the Century Soup. This trio will do anything or anyone that stands in their way.
THE LOWDOWN: While reading this ninth volume of the Toriko manga, I marveled at creator Mitsutoshi Shimabukuro's imagination. What crazy mental gymnastics he must execute in order to create the weirdoes – friend, foe, and creature – that populate this series. I must also commend him for encouraging his readers to send in ideas for even more strange creatures. This pumped up and muscular shonen manga (comics for teen boys) is a unique adventure that offers something strange and new and newly strange practically every chapter. It is further proof that imagination in comics is alive and well, alive and kicking, and alive and thriving in Japan.
POSSIBLE AUDIENCE: Readers looking for something weird, but appropriate to thrill young readers will find it in Toriko.
B+
Last Updated: August 31, 2023 - 08:12