Toriko: Volume 8
By Leroy Douresseaux
February 3, 2012 - 12:30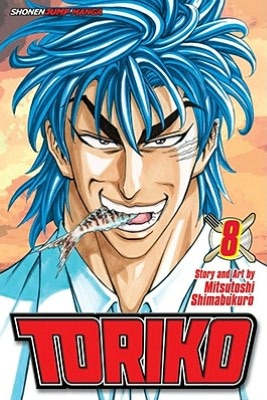 Toriko Volume 8 cover image is courtesy of barnesandnoble.com.
Rated "T" for "Teen"
On the savage world, "Earth," the pursuit of the most delicious foods is the #1 priority. Practically everything and everyone is on the menu because it is eat or be eaten. The ultimate Gourmet Hunter, Toriko, and his bottomless stomach travel the world facing every beast in his way and eating most of them.
As Toriko, Vol. 8 (entitled Century Soup!!) begins, Toriko has already feasted on the ultimate cut of meat, the Jewel Meat of the massive Regal Mammoth. The fatal wounds Toriko suffered in battle at the hands of the GT Robot are healed. Toriko is practically reborn a stronger man, and he has a new weapon in his arsenal – the 10-Fold Spike Punch.
Now, he and his partner, the chef Komatsu, arrive in Gourmet Town looking for good eats, which they find in the kitchen of gourmet living legend, Granny Setsu. Now, Toriko and Komatsu are about to taste the legendary Century Soup… or are they?
THE LOWDOWN: Pumped and muscular, Toriko is a shonen manga (comics for teen boys) on steroids, and reading it makes me hungry. This is a foodie manga like no other, but the wild and crazy style of creator Mitsutoshi Shimabukuro keeps it wacky shonen in the tradition of Dragon Ball. The Toriko manga is indeed strange, but I think that it is bizarre in that way that attracts you readers to comics.
POSSIBLE AUDIENCE: Readers looking for something weird, but appropriate to thrill young readers will find it in Toriko.
B+
Last Updated: January 24, 2022 - 11:00