Toriko: Volume 4
By Leroy Douresseaux
February 25, 2011 - 09:18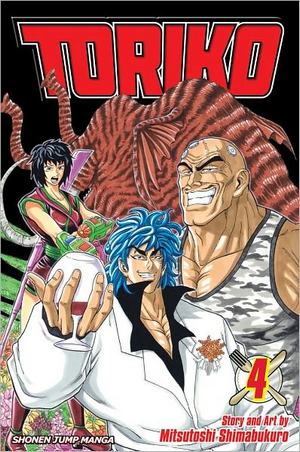 Toriko Volume 4 cover image is courtesy of barnesandnoble.com.
Rated "T" for "Teen"
Toriko is a shonen manga (comics for teen boys) from creator Mitsutoshi Shimabukuro. It takes place on a savage world (which the characters call "Earth") where the pursuit of the most delicious foods is the number one priority. Practically everything and everyone is on the menu; it's eat or be eaten. Gourmet Hunter Toriko and his bottomless stomach travel the world facing every beast along the way, and eating most of them.
As Toriko, Vol. 4 begins, Toriko takes on the GT Robot sent by his rivals, the Gourmet Corp. Next, Toriko and company head out to hunt the fabled, gigantic Regal Mammoth. They get a little help from Gourmet Hunter, Sunny.
THE LOWDOWN: Upon first glance, Toriko reminded me of an Akira Toriyama manga, specifically Dragon Ball. With its weird creatures, big brawls between monstrous combatants, and outlandish heroes and villains, it is typical Shonen Jump. The art, however, exudes the spirit of Jack Kirby, with its awesome alien panoramas and bulging muscles, so Toriko recalls Marvel Comics' old monster comics, but with a manga twist. Its offbeat sensibilities don't completely appeal to me, but I can see this visually imaginative manga appealing to younger shonen readers.
POSSIBLE AUDIENCE: Readers looking for a manga to give to a boy will find one in Toriko.
B

Last Updated: February 5, 2023 - 09:06