Essex County's Jeff Lemire Wins Shuster
By The Editor
June 16, 2008 - 03:06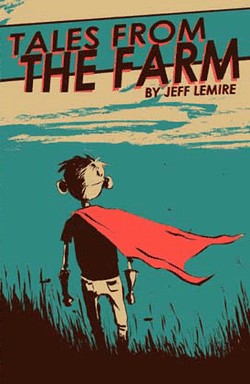 Essex County Volume One: Tales from the Farm
JEFF LEMIRE WINS SHUSTER AWARD!
Ontario native Jeff Lemire earned another recognition last night for his graphic novel trilogy Essex County (Top Shelf Productions). Held as the final event of Toronto's Sequential Art Symposium, the Joe Shuster Awards celebrate the greatest Canadian comic book creators, and Lemire took home the last and perhaps most prestigious award of the evening -- Outstanding Canadian Comic Book Cartoonist!
From a nominated pool of excellent cartoonists (including Darwyn Cooke, Brian Lee O'Malley and Julie Doucet) the jury awarded the prize to Lemire, for his achievement with the ESSEX COUNTY trilogy. Book One, TALES FROM THE FARM, was published in March 2007 to rave reviews and the American Library Association's Alex Award, quickly blowing through its first printing (second printing now available)! Book Two, GHOST STORIES, followed in September 2007, earning an Ignatz Award nomination! Further award nominations arrived soon afterwards, including two 2008 Eisners (for Best Graphic Novel and Best Writer/Artist) and the 2008 Doug Wright Award for Best Emerging Talent. Book Three, THE COUNTRY NURSE, is scheduled to be published in October 2008, bringing this intimate epic to a rich conclusion.
For more information about the 2008 Shuster Awards, visit http://joeshusterawards.com/story.asp?storyID=124 For more information about Jeff Lemire and ESSEX COUNTY, visit http://www.topshelfcomix.com/catalog.php?type=25

ABOUT JEFF LEMIRE
Born in a tiny farming town in southwestern Ontario, Canada in 1976, cartoonist Jeff Lemire now resides in Toronto. His previous projects include two issues of his self-published anthology comic Ashtray (2003) as well as the Xeric-Award-winning graphic novel Lost Dogs (2005). In 2006 Lemire's work was included as part of the Banff Center's "Comic Craze" exhibit, an international symposium celebrating Canadian comics and fiction. His Essex County trilogy has earned nominations for the Ignatz Award, received the American Library Association's Alex Award (for adult books with teen appeal), and won the Joe Shuster Award for outstanding Canadian comic book cartoonist (writer/artist). Both volumes are currently being considered jointly for the Eisner award for Best Graphic Novel, perhaps the most prestigious award in the American comics industry, as well as Canada's Doug Wright Awards (for Best Emerging Talent). In addition to the Essex County trilogy, Lemire is currently writing and illustrating the sci-fi strip "Fortress" in the quarterly UR Magazine.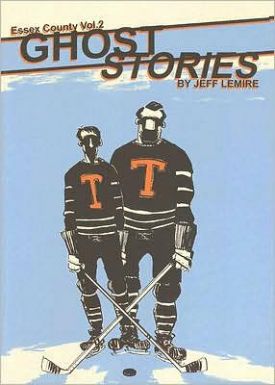 Essex County Volume Two: Ghost Stories
Last Updated: August 31, 2023 - 08:12